Names
Task force on crime and corrections
With his first Executive Order of 1992, Gov. Jim Edgar created the Illinois Task Force on Crime and Corrections. The 21-member task force, headed by Anton Valukas, former U.S. attorney in Chicago, is charged with making recommendations about the state's criminal justice and penal systems. The committee is looking at issues of prison overcrowding and how to alleviate problems without a tax increase. Illinois currently has one prison and four work camps that are empty because no money was appropriated to operate them. One focus is on the use of prison boot camps and electronic monitoring devices. An interim report from the committee is due by June 1, with a final report due December 31.
Members of the task force are Robert Bennett, dean, Northwestern University Law School; Peter Bensinger, chairman, Illinois Criminal Justice Information Authority; Kenneth Boyle, former director, State's Attorneys Appellate Prosecutor; Edward Burmila Jr., Will County state's attorney; Robert E. Cook, Cook Witter Inc.; Ruben Cruz, pastor, First Spanish Christian Church; Steve Culen, executive director, American Federation of State, County and Municipal Employees; Sen. Thomas Dunn (D-42, Joliet); Thomas R. Fitzgerald, presiding judge, criminal division, Cook County Circuit Court; Wheeling Police Chief Michael F. Haeger; Sen. Carl Hawkinson (R-47, Galesburg); Bernard D. Headley, chairman, Criminal Justice Department, Northeastern Illinois University; Rep. Thomas Homer (D-91, Canton); Mike Mahoney, executive director, John Howard Association; Rep. Roger McAuliffe (R-14, Chicago); Judge John J. Moran Jr., Cook County Circuit Court; Polly Poskin, executive director, Coalition Against Sexual Assault; Cook County Sheriff Michael F. Sheahan; Rudolph S. Shoultz, pastor, Union Baptist Church; Eileen Subak, League of Women Voters; and John T. Theis, representing the Illinois State Bar Association.
Ex officio members are Terrance W. Gainer, director, Illinois State Police; James W. Graham, special assistant to the governor; Arnold Kanter, chief legal counsel to the governor; Howard A. Peters III, director, Illinois Department of Corrections; and James K. Williams, chairman, Prisoner Review Board.
Environmentalist named to Pollution Control Board
Tanner Girard, 39, of Grafton was appointed to the seven-member Illinois Pollution Control Board by Gov. Jim Edgar effective February 13. The first member of the board to come from the metropolitan St. Louis area, Girard is a professor of biology and environmental sciences at Principia College in Elsah. He is also the current chairman of the Illinois Nature Preserves Commission and has been an officer of the Illinois Environmental Council and the Illinois Audubon Society. In announcing the appointment, Edgar praised Girard's "strong mix of credentials, both professional and academic" and his "keen understanding of the resource base of Southern Illinois." Girard replaced Jacob Dumelle, who had served on the board since its creation in July 1970.
Reappointed to the board was former state Republican Rep. Theodore Meyer, 55, of Chicago. He has been a board member since 1983. An attorney, Meyer served in the Illinois House from 1967-73 and from 1975-83. He chaired the House Energy and Environment Committee and served on committees reviewing the statewide air and water plans and hazardous waste remediation in the Lake Calumet area.
Both appointments were effective February 13 for terms expiring July 1, 1994. Senate confirmation is required. Members receive an annual salary of $64,237 plus expenses.
The biggest job facing the Pollution Board is drawing up rules to implement the 1990 amendments to the federal Clean Air Act, says the board's intergovernmental affairs attorney Phillip Van Ness. The rulemaking process itself is at issue. Over the last several months the U.S. Environmental Protection Agency (USEPA) and the Illinois Environmental Protection Agency (IEPA) have expressed concern that the Pollution Control Board will be slow in its rulemaking. According to IEPA Director Mary A. Gade, "The agency has serious concerns that the Pollution Control Board's huge workload will prevent it from meeting the requirements of the federal Clean Air Act. The act includes at least 30 new rulemakings that will be required in the next few years, and if those are not met, severe sanctions will be imposed on Illinois. Given that threat, the IEPA would favor some kind of streamlining of the board as long as it still protects the due process of all Illinois citizens and does not change the basic structure of the board envisioned in the state Environmental Protection Act."
Van Ness agrees that streamlining is a good idea: "We have talked with IEPA and others about trying to find additional ways to further streamline Illinois' rulemaking process with respect to federally required rules such as Clean Air Act amendments. We share Director Gade's view that due process must be protected. We also want to protect other state policy concerns such as the requirement that pollution control measures be economically reasonable and technically feasible." He pointed out that the board has "completed or nearly finished four clean air rulemaking dockets well before federal sanctions apply" but has been waiting over a year for federal guidelines from the USEPA on the coming round of Clean Air Act rulemaking.
Besides implementing federal environmental standards, the Pollution Control Board writes the administrative rules for state environmental laws, brings action on rule violations and adjudicates
Continued on page 34
28/May 1992/Illinois Issues
---
Names
Continued from page 28
appeals of decisions on permits for pollution control facilities and hazardous waste disposal sites.
Another rulemaking assignment for the Pollution Control Board, this one from the state, is implementation of the Potentially Infectious Medical Waste Act (P.A. 87-752), passed by the General Assembly last year. Rules must be in place by 1993.
Lamont elected president of UI Board of Trustees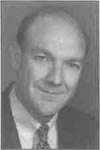 The nine trustees of the University of Illinois elected Thomas R. Lamont as their new board president, effective February 12, for a one-year term. Lamont, 44, of Springfield, is a partner in the Chicago-based law firm of Gordon and Glickson and heads the firm's Springfield office. Previously he was director of civil litigation in the Office of the Attorney General. A Democrat, he was elected to the UI Board of Trustees in 1990 for a term that will end in 1997. In that statewide trustees' election he was the only nonincumbent to win. Lamont is a major in the Illinois National Guard.
Illinois Mathematics and Science Academy
James Pearson, 53, of Aurora was reappointed to the Board of Trustees of the Illinois Mathematics and Science Academy by Gov. Edgar, effective January 26 for a term ending October 1, 1997. President of Aurora Industries Inc., Pearson has served as board president since the academy was founded in 1985. The post pays expenses only. The academy is the state's residential public high school for talented mathematics and science students.
In addition, the board of the academy's Fund for Advancement of Education elected two new members in January. They are James E. Jones of Hinsdale and Clifford L. Greenwalt of Springfield. Jones is president, chairman and chief executive officer of CBI Industries in Oak Brook. Greenwalt is president and chief executive officer of Central Illinois Public Service Company in Springfield. They will serve for three-year terms. The Fund for Education is a not-for-profit corporation that enlists investments of corporate, foundation and individual donors to the academy.
Robinson heads ARDC
A member of the Attorney Registration and Disciplinary Commission (ARDC) became its administrator March 16. Mary T. Robinson, partner in an Elgin law firm and ARDC commissioner for several years, was chosen by the ARDC's search committee from more than 70 applicants and six finalists. A 1974 graduate of the University of Southern California School of Law, Robinson worked for seven years for the Illinois State Appellate Defender's Office in the 2nd District as staff attorney and then director. As ARDC administrator, she supervises the agency's 30 attorneys and 60 staff members and administers a 1992 budget of $6.1 million.
Robinson succeeded John C. O'Malley, who resigned in September and recently dropped out of the race for 1st District appellate judge to accept a position as director of legal services for the Archdiocese of Chicago.
State's Attorneys Appellate Prosecutor
Norbert Goetten of Carrollton was named director of the Office of the State's Attorneys Appellate Prosecutor by its board of governors, effective January 1. Goetten had been Greene County state's attorney since 1972. As director he automatically becomes a member of the Illinois Criminal Justice Information Authority.
Goetten replaced Kenneth Boyle, who retired December 31 under the state's early retirement plan. A former state representative (D-53, Carlinville) from 1971-77, Goetten was Macoupin County state's attorney from 1977-80 and was instrumental in the 1977 creation of the State's Attorneys Appellate Service Commission, which became the appellate prosecutor's office in 1986. Boyle was chairman of the commission until he was named director in November 1980. During his tenure he created a drug prosecution unit to help state's attorneys with complex cases and expanded training opportunities.
Law Enforcement Officers Training Board
Thomas Jurkanin of Springfield was named executive director of the Office of the Local Governmental Law Enforcement Officers Training Board by the board, effective April 1. Jurkanin has worked for the board for the past 17 years in various administrative capacities. The author of articles and professional papers on criminal justice, he has also served as a consultant nationwide. As director he automatically becomes a member of the Illinois Criminal Justice Information Authority. Jurkanin replaced Albert Apa, who took advantage of early retirement benefits. A Chicago police officer for 32 years, Apa had served as director since January 1979. He expanded training opportunities and instituted a network of mobile team training units.
Dawn R. Busick of Springfield was named deputy executive director effective October 1. She had previously served as personnel administrator for the Secretary of State's Office. Busick replaced Terrance Tranquilli.
DOT'S new public transportation director
Stephen Schindel, 44, of Aurora was appointed director of the division of public transportation by Illinois Transportation Secy. Kirk Brown, effective April 1. A civil engineer, Schindel has been with the Department of Transportation for 21 years, most recently as deputy director of the division. He replaced David S. Williams, who was appointed to the Illinois Commerce Commission (see Illinois Issues, April 1992, page 28).
The division of public transportation administers federal and state grants for the construction of transit facilities and for the purchase of public transportation vehicles.
ESDA director resigns to run for old House seat
Ron Stephens, 44, of Troy resigned as director of the Emergency Services and Disaster Agency (ESDA), effective February 1. Stephens, a former Republican state representative who lost his reelection bid in 1990, ran unopposed in the March primary for the Republican nomination in the 110th House District. He had served as ESDA director since April 1991. John R. Plunk of Springfield was named acting director by Gov. Edgar. Plunk previously served as deputy director.
Deputy director at Employment Security

Miles Paris, 44, of Evanston was named deputy director of operations at the Illinois Department of Employment Security by Director Loleta A. Didrickson, effective February 4. Paris is a 20-year employee of the department, which administers both unemployment insurance and job placement services. In his new position Paris oversees the department's tax collecting for unemployment insurance and its delivery of services.
DASA minority liaison
Jim Long, director of the Department of Alcoholism and Substance Abuse (DASA), named Kevin Jones of Chicago his special assistant, effective February 16. Jones serves as minority specialist and liaison to the African-American community. With DASA since 1988, Jones previously was a prevention coordinator
34/May 1992/Illinois Issues
---
for Region V where he was responsible for overseeing contracts for prevention programs for Cook County.
The federal judiciary
Presiding judge of the Illinois' 2nd Appellate District, Philip G. Reinhard of Rockford, was appointed federal judge for the Northern District, western division, of Illinois. The U.S. Senate confirmed his appointment on February 2, and he resigned his Illinois seat effective February 11. He was a member of the Administrative Committee of the Illinois Appellate Court and of the Illinois Law Enforcement Commission. An Illinois judge since 1976, he served on the appellate court since 1980. His early career included eight years as Winnebago County state's attorney, and in 1974 he was president of the Illinois State's Attorneys Association.
The Illinois judiciary
The Illinois Supreme Court has announced the following appointments, assignments and resignations:
Appellate Court
Circuit Judge Robert W. Cook of Quincy, assigned to the 4th Appellate District, was also assigned to the Industrial Commission Division effective February 4, replacing retired Judge Joseph R. Spitz as alternate member.
17th Circuit Judge Daniel D. Doyle of Rockford was assigned to the 2nd Appellate District, effective March 23 until December 5, 1994.
5th District Appellate Judge Robert H. Howerton of Carterville resigned effective February 18 to return to practice as a trial attorney. According to news reports, revised Supreme Court rules limiting judges' teaching time partially contributed to his decision. He had been a judge since 1979, an appellate judge since 1988 and a member of the Illinois Judicial Conference.
Cook County Circuit
Circuit Judge Joseph Schneider of Chicago resigned effective March 15. A judicial officer since 1964, he was chief judge of the county division of the circuit and a member of the Illinois Judicial Conference, serving as its chairman and member of its executive committee. (See below for his appointment as federal monitor.)
Filling the vacancy created by Schneider's resignation is Michael B. Bolan of Glencoe. Formerly an associate judge, he was appointed circuit judge effective March 16.
Monitors named for DCFS consent decree
Ruben Castillo of Chicago, was appointed by U.S. Judge James Zagel of the Northern District of Illinois as monitor of the Burgos consent decree, effective January 21. The decree, entered in 1977, resulted from a lawsuit filed against the state's Department of Children and Family Services (DCFS), which charged that the needs of the department's Hispanic clients were not being met. Castillo was assigned in an ongoing effort to monitor compliance with that decree. He is a partner in the law firm of Kirkland & Ellis. Formerly he was regional counsel for the Mexican-American Legal Defense and Education Fund and an assistant U.S. attorney.
A monitor was also named in the B.H. v Suter consent decree entered into by DCFS in December 1991. The American Civil Liberties Union and DCFS, the parties of the suit, selected Cook County Circuit Judge Joseph Schneider, of Chicago, as federal court monitor, effective March 18. Schneider, who has resigned his judgeship, monitors compliance with the reforms, which must be implemented by DCFS over the next two and a half years (see Illinois Issues, October 1991, page 16).
New committee for ag research and commercialization
Martin Andreas of Decatur and Delwin Schneider of Peoria were named to the first Alternative Agriculture Research and Commercialization Board. The appointments were made by U.S. Agriculture Secy. Edward Madigan, effective March 6.
Andreas is vice president of Archer Daniels Midland in Decatur. Schneider is president and chief executive officer of CILCORP Ventures in Peoria. They will serve with seven other members representing geographic locations; crop, livestock and forestry sectors; and several professional categories.
The board was designated by Congress under the 1990 farm bill to establish policy, implement programs and direct the activities of an independent center within the U.S. Department of Agriculture to expand industrial uses of farm and forest products.
Former Illinoisan to be named U.S. admiral
Springfield native Marsha J. Evans, 44, of Annapolis, will become the fifth woman admiral in regular active duty in U.S. naval history. Evans' recommendation to the post by a naval selection board was approved by the secretary of the Navy, the seceretary of defense and President Bush, who sent it to the Senate for confirmation. As of April 5, Evans was awaiting confirmation but had received her next assignment effective in June: assistant vice chief of naval operations in the Pentagon, the first woman to hold that post.
Commissioned as an ensign in 1968, Evans was the first woman surface assignments officer in the Bureau of Naval Personnel. That was in
Concluded on page 36
May 1992/lllinois lssues/35
---
Names
Continued from page 35
1973 when she concurrently served as senior Navy social aide to the president. After earning a master's degree in law and diplomacy at Tufts University in 1977, she served in various posts including Middle East policy officer on the staff of the commander in chief of U.S. Naval Forces in Europe. In June 1990 she assumed command of the Treasure Island Naval Station in San Francisco, marking the first time a woman was in command of a naval station. In November 1991 she became chief of staff of the U.S. Naval Academy. Her father, Walter Johnson, still lives in Springfield. He had a 21-year career in the Navy as cook and chief petty officer.
Attorneys for Cook County public administrator
Michael J. Durkin of Glenview, Michael A. Abramson of Wilmette and Joel S. Polisky of Northbrook were appointed as attorneys to the Office of the Public Administrator for Cook County. They replace Barry A. Feinburg, John L. Kienlen and Jeffrey C. Schmidt. Louis G. Apostol, appointed Cook County public administrator by Gov. Edgar effective in June 1991, made the appointments which were effective February 18. The public administrator represents estates in probate court when persons die leaving no one to handle their property. Each county has a public administrator.
McLaughlin at WTTW
Marty McLaughlin of Chicago was appointed vice president of corporate affairs of WTTW/Chicago. The appointment, effective March 1, was made by WTTW president Bill McCarter. McLaughlin represents WTTW interests with the state and federal governments. He also represents the station on the Illinois Public Broadcasting Council, a 22-member panel that advises the General Assembly on public broadcasting. With the station since 1986, he is executive producer of Illinois Lawmakers, a WTTW series focusing on the General Assembly. Previously he was public affairs manager for R.R. Donnelley & Sons Co.
Western Springs teen wins Parents Too Soon song-writing contest
Steve Norman, 17, of Western Springs was first place winner and Rameda Smith, 17, of Chicago was runner-up in the state's sixth annual "Rock 'n' Romance" Song-Writing Contest. The contest, sponsored by Parents Too Soon, encourages teens to think about the serious consequences of unprotected teen sex, namely sexually transmitted disease and pregnancy.
More than 130 teens entered the contest with the top 12 finalists performing their songs at The Second City in Chicago. The two winners receive the chance to record their songs at Segape Studios in Chicago. The winning songs will be distributed to over 150 radio stations across the state.
Patrick Media Group
Jeffrey A. Dixon, 35, of Chicago was named vice president of public affairs by the Patrick Media Group Inc., effective in January. Previously with Burson-Marsteler public relations in Chicago, Dixon was formerly deputy press secretary to House Speaker Michael J. Madigan and an administrative aide to former U.S. Rep. Melvin Price (D-21). In 1986, Patrick Media became the largest outdoor advertizing firm in the nation. It operates over 35,000 sign structures in 22 major markets across the country and recently relocated its headquarters to Chicago.
Quincentenary Commission
Gov. Edgar appointed 20 members to the Illinois Columbus Quincentenary Commission effective February 21. The commission is organizing state activities in the yearlong commemoration of the 500th anniversary of Christopher Columbus's discovery of America.
Sen. Aldo A. DeAngelis (R-40, Olympia Fields) chairs the commission. Members include legislators, civic and business leaders, journalists and members of Illinois' Italian and Native American communities. They will coordinate state participation at the local, regional, national and international levels. Sen. DeAngelis is working to bring the replicas of the Nina, the Pinta and Santa Maria to Illinois in 1993. Built in Spain in honor of the Quincentenary, the ships have made the voyage across the Atlantic and are now visiting oceanport cities in the United States.
Retired Justice Goldenhersh dies
Retired Illinois Supreme Court Justice Joseph H. Goldenhersh of Belleville died on March 11. He was 77. Goldenhersh received his law degree from Washington University Law School and was admitted to the Illinois bar in 1936, the first of six members of his family to enter the legal profession. After a career in private practice, he was elected to the 5th District appellate bench in 1964 and to the Illinois Supreme Court in 1970. He was chief justice from 1979 to 1981 and retired from the court in 1987 because of failing health.
Staff contributors include Margaret S. Knoepfle, Jennifer Smith, Dawn Siefman and F. Mark Siebert
36/May 1992/Illinois Issues
---