Safety
AROUND YOUR HOME
The gutter's of utter importance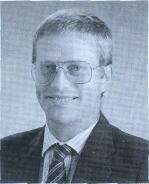 Bill Campbell
Last month, I wrote about roofing your home. A well installed roof will keep the rain off your head, but if you stop there, you may end up standing in water. The culprit could be improperly installed gutter and downspout systems. These systems are supposed to catch all the water that comes off your roof and direct it away from the foundation of your house. Leaks or improper disposal can cause basement or crawlspace wetness, facia or soffit rotting and siding discoloration.
Proper installation begins with planning your system. Gutters are available in 5 and 6-inch widths. The 5-inch gutters should be used only when the roof area to be drained is less than 30 times the gutter length and downspout spacing is less than 30 feet. Downspouts also come in two common sizes. A 2x3-inch downspout (6 square inches) can drain up to 600 square feet of roof area, while the 3x4-inch downspouts (12 square inches) can handle 1,200 square feet of roof. More roof area requires more downspouts to avoid overflowing your gutters during heavy rains.
When installing gutters, use gutter aprons or drip edges to prevent water from running down the facia board and getting behind the gutter. This is a definite problem on my house. Whoever installed the gutters neglected to install proper aprons and facia covers, so we always have water running behind our gutters. Before long, we'll have to replace the facia around our roof. When we do, you can bet there will be properly installed drip edges and facia covers in place before the gutters are re-hung.
Gutters and downspouts come in a variety of materials, but the most common are aluminum, steel and plastic. All work well, but if you choose a given material, stick to it for your entire system. Different materials expand and contract differently when heated and this can cause breaking, wear or leaks in your system. This rule also applies to gutter hangers and downspout straps.
As you continue designing your system, pay special attention to where the water will go when you get it to the ground. There should be no water discharged within 2 feet of a home with a crawlspace or within 4 feet of a basement. Discharge is not the end of your worries. The ground should continue to slope away from your house with 6 inches of fall over the first 10 feet to prevent pooling. Never discharge onto sidewalks or driveways since this can cause icy areas in the winter. You should also avoid discharging water where it will flow under walks or drives and return to basement or foundation walls.
This is still mostly a roofing job. Ladders and other equipment should be properly used to prevent falls or damage to your house. Most stepladders are not tall enough to allow safe roof-level work, so invest in a good quality extension ladder and follow all manufacturer's instructions. Stay far away from overhead electric lines when working with metal ladders and gutters.
A good source of gutter installation information is a pamphlet from the Building Research Council titled "Gutters and Downspouts for the Home." It is available through the University of Illinois Cooperative Extension Service Unit Office in your area. Home improvement stores also provide videos and how-to books on this subject. Just be sure to follow the guidelines I have outlined for a successful system.

Bill Campbell is an Extension Educator, Farm Systems, at the Springfield Extension Center, Cooperative Extension Service, University of Illinois, You can write to Campbell in care of Illinois Country Living, P.O. Box 3787, Springfield, IL 62708. Telephone: 217-782-6515. E-Mail: campbellw@idea.ag.uiuc.edu

14 ILLINOIS COUNTRY LIVING AUGUST 1996
---