STATE OF THE STATE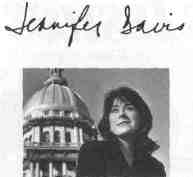 Stale politicians have promised
to work together, get things done
by Jennifer Davis
"If not us, then who? If not now, then when?"

In the waning hours of the 89th General Assembly, Republican Sen. Ed Petka of Plainfield used those famous words to rouse Democratic support for the GOP'S judicial remap plan. His point was that the high court's electoral boundaries haven't been redrawn in decades, and that the parties should work together to get it done.

---

The timing is about as
good as it gets. This isn't
an election year — a had
year for tackling tough issues.
Yet the words rang empty. Few even listened as they were said. In fact, Petka knew his party didn't need — and wouldn't get — Democratic support for a map designed to give Republicans the partisan edge on the court. It didn't matter. In the GOP-controlled 89th, the plan passed anyway.
But, oh, what a difference a day makes.
Less than 24 hours after Petka's disingenuous call for cooperation, House Speaker Michael Madigan issued essentially the same challenge as his party reclaimed control of the House. "I seek to manage the affairs of the House in a very fair and cooperative manner," Madigan said in his inaugural speech.
That time everyone sat up to listen. And, who knows? Maybe Petka's words could become the slogan for the new 90th General Assembly.
After all, the two chambers will need to work together to accomplish anything this year, and what they've put on their plates is staggering: prison reform, health care reform and, most important, education finance reform. That's a lot of reform to tackle, even with everyone working together.
Just finding a way to close the spending gap between rich and poor school districts, for instance, could entail an increase in state taxes, a scary idea for any legislator. Still, the new General Assembly is barely under way and already several revenue strategies have been floated.
If not them, then who?
Indeed, this may be our elected officials' best shot in some time to reach agreement on a number of issues. For one thing, the political playing field is close to even. The Democrats control the House, but only by two votes; the Republicans still control the Senate, but by a slimmer margin than last year.
For another, Democrat Madigan, GOP Senate President James "Pate" Philip and Republican Gov. Jim Edgar have all vowed to cooperate with one another. And there are promising signs these aren't just empty phrases.
Madigan extended the first olive branch by ceding some power to Republicans in legislative committees, an unprecedented move.
If not this year, then when?
Allowing for some skepticism, the timing is just about as good as it gets for bipartisan cooperation. This isn't an election year — a bad year for tackling touchy subjects.
Of course, no one will entirely lose sight of next year. Madigan, after all, won the House by the slimmest of margins: six seats. That gives the Democrats 60 members, the exact majority needed to pass legislation.
The Democrats gained one new member from downstate; the other five hail from the suburbs south of Chicago, Because the Republicans have hopes of recapturing that south suburban region in the '98 election, those five Democrats could be sitting on extra hot seats when it comes to debating school funding. They may need to balance party loyalties with their constituents' desire not to see higher taxes.
In fact, three of those five have ties to the education community.
* Kevin McCarthy of Orland Park is a former Chicago middle school teacher and parochial school board president. He also has a master's degree from DePaul University in educational administration.
"I am willing to take bold steps to reform education, but both sides will have to work together, otherwise we're just running at windmills," he says. "And I'm willing to look at anything, but I'm also going to vote for my area and the whole state. Just because Mike [Madigan] says something doesn't mean I have to agree."
McCarthy stresses he has gotten no pressure from Madigan:
"Being an outsider to this process a year ago, I expected him to be more of a controlling influence than he has been. Really, from what I've heard and seen so far, I think there is more freedom on this side of the aisle."
* George Scully Jr. of Flossmoor points to his efforts to pass a referendum increasing funding to his local school district that eventually led him
6 / February 1997 Illinois Issues
---
to the legislature.

"While working to pass the referendum, 1 realized we were dealing with a short-term solution," says Scully, a lawyer and former bank examiner for the Federal Deposit Insurance Corp. "I knew a long-term solution would require reform in Springfield."

"Under the current [funding] system, my district comes out on the short end of the stick because we have a poor commercial real estate tax base. We have no shopping malls. The only one we did have has basically all but closed down." Education funding reform "is a very high priority in my district."

*Maggie M. Crotty of Oak Forest stepped down after the election as president of District 228's Educational Foundation and spent 15 years as a District 145 school board member and president.

The other suburbanites:

* James D. "Jim" Brosnahan of Evergreen Park is a lawyer primarily representing construction trade unions. He has also been an assistant state's attorney in Cook County's anti-gang crime unit and public integrity unit. F.R.I.E.N.D.S., a group of educators dedicated to fair school funding, endorsed him during his campaign.

* Michael Giglio of Lansing is a co-owner with his father, former Rep, Frank Giglio, of Calumet City Plumbing and Heating Co. He has a bachelor's degree in business management from Roosevelt University.

The new downstate House Democrat is Glenn Bradford of Glen Carbon. He's the managing senior partner of an East Alton law firm. He has been president of the Madison County Bar Association and a board member of the Illinois Public Action Council.

In the Senate, the Republicans retain a majority at 31 members, one more than the 30 needed to pass legislation. The Democrats picked up two new members. Both are suburbanites; both have ties to the education community.

• Terry Link of Vernon Hills is a board member of the College of Lake County Foundation and a former parochial school board member. He also co-owns a sales, rental and service truck company and is Lake County's Democratic Party chairman.

• Debbie DeFrancesco Halvorson of Crete is the clerk of Crete Township and a businesswoman. The Illinois Education Association endorsed Halvorson and was one of the top contributors to her campaign. In the upset of this legislative election cycle, Halvorson ousted 18-year incumbent Republican Aldo DeAngelis.

LEGISLATIVE FRESHMEN

THE SENATE


13th District:
Barack Obama, Democrat, Chicago
24th District:
Christine Radogno, Republican, LaGrange
30th District:
Terry Link, Democrat, Vernon Hills
40th District.
Debbie DeFrancesco Halvorson, Democrat,
Crete

THE HOUSE


1st District:
Sonia Silva, Democrat, Chicago
2nd District:
Edward Acevedo, Democrat, Chicago
33rd District:
John A. Fritchey, Democrat, Chicago
34th District:
Larry McKeon, Democrat, Chicago
35th District:
Maggie Crotty, Democrat, Oak Forest
36th District:
James Brosnahan, Democrat, Evergreen Park
37th District:
Kevin McCarthy, Democrat, Orland Park
38th District:
Renee Kosel, Republican, New Lenox
57th District:
Elizabeth Coulson, Republican, Glenview
59th District:
Corinne Wood, Republican,Lake Forest
75th District:
Mary K. O'Brien, Democrat, Coal City
79th District:
Michael Giglio, Democrat, Lansing
80th District:
George Scully Jr., Democrat, Flossmoor
92nd District:
Ricca C. Slone, Democrat, Peoria Heights
112th District:
Glenn Bradford, Democrat, Glen Carbon

Beyond the addition of these lawmakers to the Democratic roster, the general makeup of the legislature has changed little. There are four more women in the House this session, bringing the number up to 35. The number of African Americans and Hispanics remains at 14 and four respectively.
In the Senate, one new woman, Halvorson, was seated, but another was replaced by a man so the total remains 11. The number of minority senators remains constant with eight African Americans and two Hispanics.
As for the dynamics of the General Assembly, that also has not changed much, says Jack Van Der Slik, director of the Illinois Legislative Studies Center at the University of Illinois at Springfield. "What has changed is now there is a slim vote majority and these legislators will have to work together to pass legislation. [But] the 60 votes Madigan has is not a majority that can be held together [easily], especially when you consider how diverse. the Democrats are."
Van Der Slik predicts some "wandering" on both sides of the aisle. Still, he thinks the forces pushing for bipartisanship in the House could spill over into the Senate.
Unfortunately, no one can predict what this supposed new era of bipartisanship will actually produce. Will we have lively debates and meaningful legislation or empty challenges to legislators who aren't even listening?
As Gov. Jim Edgar put it recently: "I'll wait and see about this bipartisan lovefest."
Illinois Issues February 1997 / 7
---
Illinois Periodicals Online (IPO) is a digital imaging project at the Northern Illinois University Libraries funded by the Illinois State Library