PEOPLE
Edited by Jennifer Davis
Shifts at the Top
MACK MOVES ON
Gary Mack, Gov. Edgar's longtime press aide, is going into business for himself. Mack will leave his $85,000 state salary to launch a communications-lobbying firm. "Twelve years is a long time in public service," he says.
DURBIN NAMES STAFF
U.S. Sen. Richard Durbin is keeping intact his Washington congressional staff, including Chief of Staff Ed Greelegs. Michael Daly, who ran Durbin's successful campaign for the U.S. Senate, will continue as chief of staff for Durbin's Illinois offices. Margaret Houlihan is director of his Chicago office and Adrieene Jones is director of constituent services. Chris Widmayer is the senator's Illinois press secretary.
MOSELEY-BRAUN SHAKES UP STAFF
Michael Briggs is the new press aide for U.S. Sen. Carol Moseley Braun. Briggs moves from the staff of retiring U.S. Sen. Paul Simon. A native of Galesburg, Briggs was previously with the Chicago Sun-Times. He served 14 years in the Illinois Statehouse and another 10 in the newspaper's Washington bureau. He's the senator's fourth press aide in as many years. His tenure begins as she gears up for what promises to be a difficult re-election bid. Appointed to head the staff was Page S. Gardner, who worked in Dawn dark Netsch's successful 1994 primary race for governor. Gardner is the senator's fourth chief of staff.
LT. GOV. MAY HEAD
HIGHER EDUCATION BOARD
Gov. Jim Edgar recently tapped Lt. Gov. Bob Kustra to replace the late Arthur Quern as chairman of the Illinois Board of Higher Education.
"I realized the governor would need someone who could hit the ground running," says Kustra, who, in addition to his involvement in education as lieutenant governor, has taught at several public and private universities over the last 25 years. "It was clear to me this was something I would enjoy doing and could do well."
Quern, who died in a plane crash in October, was responsible for streamlining and updating Illinois' university programs.
Kustra pledges to carry on Quern's work. The Republican-led state Senate is expected to confirm the appointment. "Until then, I'll be doing my homework," says Kustra, adding he also hopes to visit all the university campuses in the next few weeks.
Issues such as affordability, student access and preparation of the work force will remain central, Kustra says, but he also believes Illinois can do more to bring technology into the classroom.
"I'm very interested in the concept of a virtual university such as has been done elsewhere in the country," he says. "We have a lot of students who, for whatever reason, are not able to be on campus. We can do more to bring education to them. I don't foresee offering a completely online degree, but I do want to somehow combine the resources on campus with those online."
As chairman, Kustra would oversee a 15-member board.
"Education is my first love," he says.
---
GOVERNOR APPOINTS NEW AGENCY HEAD
AND KEEPS MOST OF HIS CURRENT CABINET
Howard A. Peters III was named the first secretary of the Department of Human Services.
Peters, 51, was director of the Department of Corrections for four years. Most recently, he served as Gov. Edgar's deputy chief of staff.
Peters says he is "respectful of how difficult and challenging this work will be."
Beginning July 1, three state agencies and numerous programs from three others will merge into the new department, making it the largest state agency. Peters' salary will go from $95,000 to $101,428..
While announcing Peters' appointment, Edgar also revealed he will retain almost all his current cabinet members. Barbara Cimaglio, director of the Department of Alcoholism and Substance Abuse, is leaving to take a position in Orgeon. And Desiree Rogers, director of the Department of the Lottery, is returning to the private sector in March.
Congratulations
Rep. Julie Curry, a Decatur Democrat, gave birth to Evan Curry
Denison, an eight pound, seven ounce boy, on New Year's Eve.
36 / February 1997 Illinois Issues
---
Honors
1997 Lincoln Laureates
Six Illinoisans will receive the state's highest honor for individual achievement, the Order of Lincoln Medallion, at ceremonies in Springfield in April.

Photograph courtesy of Illinois Stale Historical Library

This year's Laureates are:

Gwendolyn Brooks, a poet and author who has been the Poet Laureate of Illinois since 1968 and was awarded the 1995 National Medal of the Arts.

Leonard Lavin, major philanthropist and founder of the Alberto Culver Co.

Ramsey Lewis, composer, pianist and jazz legend who has produced seven gold albums and won three Grammy awards.

Robert Michel, former congressman and House minority leader whose advice and support have been sought for years by U.S. presidents and world leaders.

Jerry Reinsdorf, the owner of the Chicago Bulls and Chicago White Sox, who recently built the new Comiskey Park and United Center sports stadiums.

Seymour Simon, a former Illinois Supreme Court Justice who has been an outspoken advocate for individual rights.

The Lincoln Academy, unique among the 50 states, was established 31 years ago to honor Illinois' most distinguished citizens. Past honorees have included Jack Benny, James Brady, John Chancellor, Bill Kurtis, Paul Harvey, Charlton Heston, Jeane Kirkpatrick, Ann Landers, Walter Payton, Ronald Reagan, Mike Royko and Alan Schriesheim.
---
STATE CHAMBER CHIEF MOVES ON
In describing Sally A. Jackson, president and CEO of the Illinois Chamber of Commerce, someone once said: "She can charm a pit bull."
This 45-year-old Springfield native can take her pick of compliments. She can also take her pick of positions. Jackson will soon leave Illinois to become president of the Greater Columbus Chamber of Commerce in Columbus, Ohio.
That state approached her just as a headhunter came to her with the Illinois Chamber position four years ago.
"[Columbus] came to me. I wasn't looking for a change at the time, although the idea of relocating someday was something my husband and I had talked about," says Jackson, adding she hopes to start her new position March 1. "I've lived all over the state. I truly love Illinois, yet this was an opportunity I couldn't pass up."
Although Illinois' state chamber is one of the largest nationwide, Columbus' chamber has a larger staff, bigger budget and more members. She was also offered a "wonderfully attractive salary and benefits package," she says.
"Columbus is truly a vital, thriving and focused community in a growth mode," Jackson says. "They have been very successful in expanding locally and reaching out internationally. They are a diverse and well-balanced chamber, and I am very excited to move to a more business development-focused agenda."
Jackson's resume also includes a 14-year stint in former Gov. James Thompson's administration. She began as a budget analyst and then was appointed the first director of the Illinois Department of Employment Security.
Gov. Jim Edgar then offered her another directorship, which she declined. Instead, she accepted his offer to be second in command of his staff.
---
DEMOCRATS
NAME FIRST
WOMAN MAJORITY
LEADER IN THE
LEGISLATURE
Chicago Democratic state Rep. Barbara Flynn Currie is House Speaker Michael Madigan's choice for majority leader, making her the first woman to hold such an influential position in the legislature.
Currie, 56, was first promoted to Madigan's leadership team in 1993. However, as majority leader, she is the highest-ranking House member behind the speaker.
Her new responsibilities include managing the action on the floor, building consensus on tough issues and running the chamber's daily operations.
Currie, who represents a district on the city's South Side, was first elected to the General Assembly in
[Article Ends]
Illinois Issues February 1997/ 37
---
PEOPLE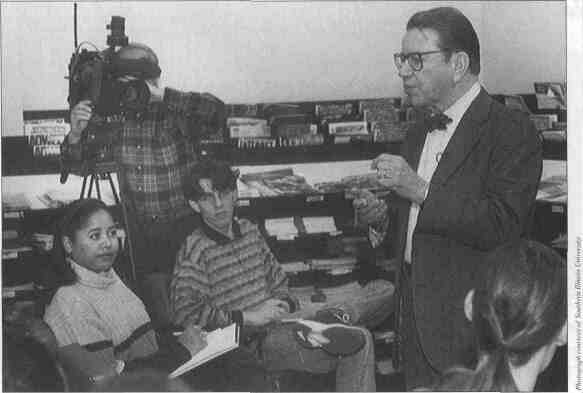 Farmer U.S. Sen. Paul Simon began a new job in his home state in January. He's now teaching at Southern Illinois
University in Carbondale. Students — and news crews who were on hand to record the veteran
legislator's transition from Congress to college —filled Simon's classes on journalism and
political science. Simon also will head an institute at SIU.
---
LAWMAKER RESIGNS
TO BECOME A JUDGE
Less than a week before beginning his 10th year as an Illinois state senator, Tom Dunn announced his resignation to take an appointment as a Will County associate judge.
The 54-year-old Joliet Democrat was sworn into the 90th General Assembly January 8, but expects to take his new post in early-to mid-March. Although he will more than double his legislative salary of $50,236, Dunn says money wasn't the driving force behind his decision.
"Money never has anything to do with anything in life," says Dunn. 'I have always been interested in serving on the bench for years and years and years. I've put in 10 years down here and done some positive things for my district. Life goes on."
38 / February 1997 Illinois Issues
---
Illinois Periodicals Online (IPO) is a digital imaging project at the Northern Illinois University Libraries funded by the Illinois State Library