Published by
Association of Illinois
Electric Cooperatives
John Lowrey
Editor
Jack D. Halstead
Senior Editor
Joseph W. Richardson
Catrina Mc Culley
Associate Editors
Charles Kurfman
Photographer
Sandy Wolske
Advertising Coordinator
Elayne Rhodes
Administrative Assistant
Cheryl Howard, Lisa Riddle
& Erin Weller
Graphic Designers
Derek Squires
Graphic Technician/Designer
Angie Bingenheimer
Circulation Coordinator
Illinois Country Living is a monthly publication serving the communications needs of 21 locally owned, not-for-profit Illinois electric cooperatives. More than 160,000 families receive the magazine as part of their electric cooperative membership. Monthly columns and stories provide information about topics and issues that affect the quality of their lives.
Illinois Country Living (ISSN number 1086-8062) is published monthly and is the official publication of the Association of Illinois Electric Cooperatives, 6460 South Sixth Frontage Road, Springfield, IL 62707. The cost is $2.40 plus postage per year for members of subscribing cooperatives and $5 per year for all others. Periodical postage paid at Springfield, Illinois, and additional mailing offices.
POSTMASTER: Send address changes to: Illinois Country Living, P.O. Box 3787, Springfield, Illinois 62708.
CO-OP MEMBERS: When requesting an address change, please include the name of your cooperative. Telephone: (217) 529-5561
Advertising and editorial inquiries should be directed to Illinois Country Living, P.O. Box 3787. Springfield, Illinois 62708. National advertising representative; The Weiss Group, 14826 North 54th Place. Suite 101, Scottsdale, AZ 85254 (602) 482-8844. Acceptance of advertising by ICL does not imply endorsement by the publisher or the electric co-operatives of Illinois of the product or service advertised. Advertisers are screened by the publisher and every effort is made to protect the subscriber, but ICL is not responsible for the performance of the product or service advertised.
EDITORS: Articles appearing in Illinois Country Living may be reprinted upon consent of the editor. For permission phone (217) 529-5561 or write to John Lowrey, editor, Illinois Country Living, P.O. Box 3787, Springfield, IL 62708.

COVER STORY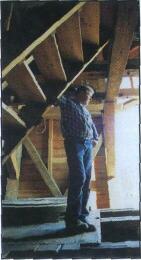 10 Prairie Mills — A community cornerstone becomes a golden opportunity
When another town offered to buy Golden's windmill, area residents rallied to block the move. Now Prairie Mills is being reborn as a living museum and economic opportunity. On the cover: Prairie Mills circa 1908. Photo courtesy Golden Historical Society.
DEPARTMENTS
4 ILLINOIS COMMENTARY
Now may be the time to plan your estate. Harold D. Guither, retired professor of agricultural policy at U of I, offers insight into the process. Among his suggestions: enlist the aid of an experienced financial planner and attorney.
6 ILLINOIS CURRENTS
Public and private sector partnerships critical to economic development, saving on heating bills is a matter of degrees, and energy saving computers.
14 SAFETY AROUND YOUR HOME
Guiding a group of volunteers? Read Ruby Lingle's column on developing a risk management plan.
16 YOUR YARD AND GARDEN
Mail order catalogues offer hard-to-find seeds and bargain prices.
18 TODAY'S TECHNOLOGY AND YOU
New windows reduce noise, dust, allergens, and energy bills.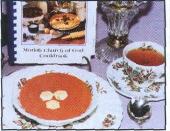 22 ILLINOIS' FINEST COOKING
Bake a Better than Ever Cake with a recipe from the Moriah Church of God, Casey, then wash it down with holiday eggnog made from a recipe supplied by the Bethel Baptist Church, Colchester