Published by
Association of Illinois
Electric Cooperatives
John Lowrey
Editor
Jack D. Halstead
Senior Editor
Joseph W. Richardson
Catrina Mc Culley
Associate Editors
Charles Kurfman
Photographer
Sandy Wolske
Advertising Coordinator
Elayne Rhodes
Administrative Assistant
Cheryl Howard, Lisa Riddle
& Erin Weller
Graphic Designers
Derek Squires
Graphic Technician/Designer
Angie Bingenheimer
Circulation Coordinator
Illinois Country Living is a monthly publication serving the communications needs of 21 locally owned, not-for-profit Illinois electric cooperatives. More than 160,000 families receive the magazine as part of their electric cooperative membership. Monthly columns and stories provide information about topics and issues that affect the quality of their lives.
Illinois Country Living (ISSN number 1086-8062) is published monthly and is the official publication of the Association of Illinois Electric Cooperatives, 6460 South Sixth Frontage Road, Springfield, IL 62707. The cost is $2.40 plus postage per year for members of subscribing cooperatives and $5 per year for all others. Periodical postage paid at Springfield, Illinois, and additional mailing offices.
POSTMASTER: Send address changes to: Illinois Country Living, P.O. Box 3787, Springfield, Illinois 62708.
CO-OP MEMBERS: When requesting an address change, please include the name of your cooperative. Telephone: (217) 529-5561
Advertising and editorial inquiries should be directed to Illinois Country Living, P.O. Box 3787. Springfield, Illinois 62708. National advertising representative; The Weiss Group, 14826 North 54th Place. Suite 101, Scottsdale, AZ 85254 (602) 482-8844. Acceptance of advertising by ICL does not imply endorsement by the publisher or the electric co-operatives of Illinois of the product or service advertised. Advertisers are screened by the publisher and every effort is made to protect the subscriber, but ICL is not responsible for the performance of the product or service advertised.
EDITORS: Articles appearing in Illinois Country Living may be reprinted upon consent of the editor. For permission phone (217) 529-5561 or write to John Lowrey, editor, Illinois Country Living, P.O. Box 3787, Springfield, IL 62708.

COVER STORY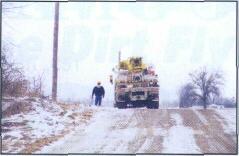 12 Co-ops are prepared for winter outages — are you?
Thousands were left without power in the wake of January's snow storm. Here's a look at how electric cooperatives get the lights back on during severe weather.
DEPARTMENTS
4 ILLINOIS COMMENTARY
Dena Stoner, executive director of the National Rural Electric Cooperative Associations Department of Government Relations, discusses the politics in your electricity and how to make your voice heard.
6 ILLINOIS CURRENTS
Find out how co-ops help bring jobs to rural Illinois, attend an electric motor and wiring workshop, learn what cautions to take when cutting trees, and tips on buying the right refrigerator.
16 SAFETY AROUND YOUR HOME
Duane Friend, natural resources management educator at the Springfield Extension Center, explains how to deter nuisance animals from entering your home.
18 YOUR YARD AND GARDEN
Ready to add a little color to your life? Paint your backyard with birds and butterflies by following these tips from Dave Robson.
20 TODAY'S TECHNOLOGY AND YOU
Shave serious dollars off your energy bill with a super-efficient water heater.
22 COUNTRY COLUMN
Freelance writer Linda Cope contracts a severe case of cabin fever.
24 ILLINOIS' FINEST COOKING
Hungry for something new? Try the rice broccoli and ostrich casserole recipe supplied by WGNN Good News Radio, Champaign, or a cherry pizza pie, courtesy AMVETS Auxiliary #4, Mt. Vernon.