BRIEFLY
Edited by Rodd Whelpley
TOXIC TO LARVAE?
Bt-corn may be dangerous to monarchs
Turns out, a hybrid corn popular with farmers because it has been genetically engineered to vanquish the pesky European corn borer is also deadly to monarch butterflies. At least that's what research out of Cornell University shows.
Researchers have found that the hybrid Bt-corn, which has genes from a bacterium toxic to the corn borer spliced into it, produces pollen that ends up on milkweed, the lone food source of monarch butterflies. In the lab, monarchs were offered milkweed sprinkled with fir-corn pollen. Those fed that milkweed died at a higher rate, grew more slowly and ate less. Almost half of their larvae died, while those fed fit-free leaves survived.
"Monarchs are considered to be a flagship species for conservation. This is a warning bell," says Linda Rayor, an entomology instructor who participated in the study. As monarchs' "habitat is disrupted or destroyed, their migratory phenomena is becoming endangered." In fact, the problem for the monarch may be one of migratory timing. In late May or June, adults head north into the Midwest to lay eggs on milkweed. The larvae feed right when corn is shedding pollen.
The leader of the research team, entomologist John Losey, says the study is a first step and that more research needs to be done.
In a written statement, St. Louis-based Monsanto Co., a leading manufacturer of fir-corn, responded: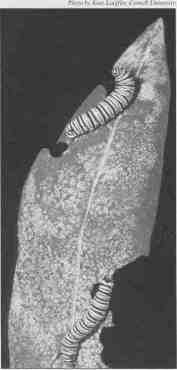 Monarch caterpillars on a milkweed leaf dusted with pollen.
"In real life situations, the exposure of milkweed to corn pollen is very low because only a small portion of milkweed grows in close enough proximity to cornfields for exposure to corn pollen."
But corn is wind pollinated, and its pollen can be blown more than 60 yards, Losey notes.
Last year, U.S. farmers planted more than 7 million acres of Bt-corn. Annual losses to the corn borer have been estimated at $1.2 billion.
Maureen Foertsch McKinney
WEB SITE OF THE MONTH
Cyber kicks on Route 66
John Steinbeck dubbed it the "Mother Road," and Bobby Troup told us we could "get our kicks" on it. And even though it doesn't show up on current road maps, everyone knows about — and has probably traveled some part of — Route 66, the road that means freedom and opportunity to many Americans. Now Congress is considering a bill authorizing the National Park Service to spend $10 million over nine years to preserve the cultural heritage of the Chicago to Los Angeles highway, including a 400-mile stretch through Illinois.

America's favorite road merges with the information superhighway at a number of noteworthy Web sites. You can plan a virtual or an actual adventure along America's Main Street by:

starting at www.il66assoc.org, the site of the Route 66 Association of Illinois. It reports the latest efforts to save parts of the road and vanishing stops along the way, including the 1930s gas station in Odell. Another site is www.route66.com, which gives a history of the road, stats about the eight states it runs through and information on collectibles.

Probably the best site for planning to drive as much of the original Route 66 as possible is route66.netvision.be. Click on the Road Description button for detailed maps and directions that should keep even the most directionally challenged driver on track. This site also contains a Route 66 history, current news, events held along the way and stories from travelers about good — and bad — places to eat and sleep. Some personal advice is to try the 66 Diner in Albuquerque, N.M., and stay in the cement tepees in Holbrook, Ariz.

With interstates bypassing so many; businesses, nostalgia, even when it's helped out by the feds, may or may not save Route 66, so enjoy a bit of Americana while you can.
Beverley Scobell
8 / July/August 1999 Illinois Issues
---
Home grown meds may be a byproduct of Illinois' ag industry
Cancer-fighting drugs could be harvested from byproducts of crop processing plants. Researchers at the University of Illinois at Urbana-Champaign report that initial laboratory tests show an ethanol extract of soybean molasses represses the ability of at least one dietary carcinogen to damage the DNA of normal cells.
"It is strange to be running off to the rain forest to yank up weird plants when we may already be sitting on mountains of very useful pharmaceutical agents in our own corn and soybean fields," says Michael J. Plewa, a crop science geneticist.
The team headed by Plewa announced that the structure of the active compound. named phytochemical complex 100, or PCC100, contains a combination of chemicals known as saponins. Very little work has been done on their biological effects. But the researchers have found that PCC100 suppresses the growth rate of cancer cells and that an isolated soy-protein processing byproduct drastically reduces the growth rate of human colon cancer. The newly discovered, still-evolving molecular technique may allow scientists to identify more precisely the specific protein agents and the anticancer mechanisms that are involved.
Funding to explore the crop byproducts and develop techniques for finding antimutagens, anticarcinogens and tumor growth suppressing agents comes from the United Soybean Board and the Illinois Soybean Operating Board. Members of the research team include other University of Illinois researchers and students and Mark Berhow, a Peoria-based U.S. Department of Agriculture researcher. Archer Daniels Midland Co. in Decatur supplies the team with soybean byproduct samples.
"We are looking to prevent environmental carcinogens ingested in our diet from affecting normal cells in our bodies, and to isolate agents that slow down the growth rate of already existing cancer cells," says Plewa. "If we can repress their growth, we might be able to extend the use and heighten the effectiveness of therapeutic drugs, chemotherapy and radiation."
Beverley Scobell
A butterfly haven for downtown Chicago
What's the difference between a moth and a butterfly? The Butterfly Haven, which includes a 28-foot tall greenhouse filled with live butterflies, will answer that question and many others when the Peggy Notebaert Nature Museum opens in Chicago this October.
Built by the Chicago Academy of Sciences and located in Lincoln Park, the $30 million environmental museum is the first museum to be built in Chicago's parks in more than six decades. The 4, 000-square-foot
Butterfly Haven will have interactive programs to help visitors learn about the lifecycles, migration and behavior of these insects.
A photographic exhibit, "Nature Revisited," showcasing the new museum opens August 5 at the Chicago Architecture Foundation Atrium Gallery.
Beverley Scobell
Junonia coenia, the Buckeye butterfly, is one of the species breeding at the new Chicago Academy of Sciences museum.
DUPAGE 7-5-0 Lawmen acquitted of conspiracy charges
Another chapter in the wrenching story of the 1983 murder of Jeanine Nicarico has come to a close. On June 5, after a 13-trial week trial, five law enforcement officials were acquitted on charges they had conspired to frame Rolando Cruz for the murder.
Exonerated were former DuPage County prosecutor Thomas Knight and DuPage County sheriff's deputies Dennis Kurzawa, Thomas Vosburgh and James Montesano, who had been accused of falsifying evidence (see Illinois Issues, May, page 24). A fifth defendant in the case, sheriff's Lt. Robert Winkler, was acquitted of charges that he changed his testimony over the years to help the case against Cruz. Winkler opted to have his case heard by Judge William Kelly rather than jurors.
Originally, seven indictments were handed down in the case. But after the prosecution rested. Judge Kelly acquitted former prosecutors Patrick King and Robert - Kilander, making the DuPage 7 the DuPage 5.
Cruz was convicted and sentenced to death in 1985 and again in 1990 before being acquitted in 1995. On the stand in the case against the law enforcement officials, he admitted that he had sought psychiatric treatment for a problem with lying.
Following the acquittal of the law enforcement officials, jurors told reporters that the greatest roadblock to conviction was Cruz's unreliability as a witness. Jurors handed down the verdicts for Knight, Kurzawa, Vosburgh and Montesano after 11 hours of deliberations. Kelly gave his verdict in the Winkler case just prior to the jury announcement.
The verdicts gave a measure of relief to the parents of Jeanine Nicarico, who was 10 years old when she was taken from her Naperville area home, sexually assaulted and murdered. Her parents say they believe Cruz was involved in the murder even though DNA evidence points to another man as the killer. Thomas Nicarico told reporters after the decision, "This is the way it should have been. We shouldn't have been in this courtroom." Maureen foerfsch McKinney
Illinois Issues July/August 1999 / 9
---
BRIEFLY
WHO GOT WHAT
Member initiatives spread the wealth to every district
Illinois lawmakers are set to bring home the bacon for their districts.
That certainly won't hurt come election time. And, good news for them, this spring's "something for everybody" state budget allows for an estimated minimum of $280 million in so-called "member initiatives," the vehicles members of the General Assembly use to finance their favorite projects.
Lawmakers will have to go through the four legislative leaders — the Senate president, the House speaker and the two corresponding minority party chiefs — for these discretionary funds. And because next year is an election year, those legislators at risk of losing will get a little extra help from their party chiefs.
Still, the four leaders have been careful to reward their own constituents as well in the $42.8 billion budget year that began July 1.
With so much money on the table, the question is: Who got what? Finding the answer isn't easy. That's because, for the first time in recent memory, most of the legislative projects were not detailed in the budget.
In general. Democrats were more forthcoming about listing their projects, while Republicans chose to designate their initiative dollars in lump sums. Most of those were tucked into the budget of the Department of Commerce and Community Affairs, according to Murphysboro GOP Rep. Mike Bost. Republicans say they'll release details over the summer.
A nonscientific comparison of a cross section of projects to be funded through these initiatives shows that most are pretty similar — road and school repair, urban rehab, senior centers — but a few districts will get the benefit of unusual projects.
Senate President James "Pate" Philip of Wood Dale raked in $15.8 million for projects in his district. Major plans for the DuPage County Republican include $11.5 million for five projects in the county forest preserve district.
Sen. Patrick Welch will devote most of his $1.5 million to roads. But the assistant Democratic leader from Peru also has slated $150, 000 to buy land along the Illinois River in Marseilles for parks.
Sen. Terry Link, a Democrat from Vernon Hills, will take $1.6 million back to his traditionally Republican district. His plans include $450, 000 for a park in upper crust Highland Park and $100, 000 for the Lake County Urban League.
Rep. Mary Flowers, a Chicago Democrat, received $1.37 million, and will use about half of those dollars to expand a park in the West Chatham neighborhood on the city's South Side. Along with other education-related projects, she plans to budget $100, 000 for an Arab-American organization for after- school programs.
Bost got about $1.25 million for projects in his downstate district. The Republican allotted about $700, 000 for road projects and the rest for buildings. But he says there's another $800, 000 for his district in the budget, though those projects aren't specified in line-item listings.
"The good thing about using the lump sum process is that you don't have to have the exact wording of where the money will go to," he says. "This allows things to go smoother. We can calmly sit down and not rush around in the last few weeks" [of the session].
Bost says he has already worked with local communities to pinpoint where the money will be spent.
Burney Simpson
10 / July/August 1999 Illinois Issues
---
Board of Elections fines tardy campaign committees
More than 200 political committees that failed to file timely campaign finance reports on larger, last-minute contributions and those who made other reporting missteps were fined $450, 575 under campaign reforms that took effect at the beginning of the year.

Most of the violators were running in municipal elections this past spring. And the most serious fines were levied against Chicago aldermanic candidates. The top penalty of $69, 200 was charged against the New 24th Ward Democratic Organization in Chicago, the political committee of Aid. Michael Chandler. The alderman is appealing the fine, saying there was a misunderstanding about some of the filing requirements.

In the 30 days prior to an election, campaign committees are required to file a report within 48 hours of each contribution of $500 or more to the State Board of Elections. The law imposes a sliding scale of fines on candidates or political committees that miss the deadline. But first-time offenders don't have to pay the fines unless they repeat the offense.

Chandler says his treasurer mistakenly recorded the date the contributor wrote the check, not the date his campaign received it. "As far as the date goes, we were correct and we filed within the 48 hours. My situation is not unique. Obviously, this will make folks do better bookkeeping."

Next January, political committees with more than $25, 000 on hand will be required to file their reports electronically. And many campaigns might have that much in the coffers. The Sunshine Project, a campaign finance watchdog group, reported this summer that the cost of campaigns continues to rise. Candidates for statewide and legislative offices spent a record $93.1 million on the 1998 elections, surpassing their old record of $64.6 million set in 1994.

Burney Simpson

Implementation of ethics law draws confusion and criticism
Part of an ethics reform law that calls on as many as 7, 600 local governments to set up their own ethics panels was set to take effect July 1. But, according to Illinois Municipal League Director Ken Alderson, only about 10 percent of municipalities had set up some type of ethics commission as of mid-June.

The slow compliance may stem from confusion among many small towns about whether the new law applies to them. Called the gift ban act, the law seems to require local governments and school boards, as well as the legislature and the constitutional officers, to establish separate ethics commissions.

Earlier this spring, Alderson and others were hoping lawmakers would approve a measure to exempt or clarify the responsibilities of local governments (see Illinois Issues, May, page 9). The Senate did pass an amendment to the act that would allow local governments to send ethics complaints to a county- wide panel. But the amendment didn't pass the House. The issue could be revived in the legislature's fall veto session.

Alderson says the law, as it stands now, fails to spell out what form cities should follow in organizing an ethics panel: "Should a municipality emulate the state and create panels for its executive and legislative branches? Should there be a panel for a local treasurer or finance officer? Pretty soon you have everybody in the state in government."

But Steve Brown, a spokesman for House Speaker Michael Madigan, says towns and cities organize commissions for many reasons, and this shouldn't be a burden. "The law includes cities," Brown says. "They should be able to find people for a panel."

The state's constitutional officers and the legislature have already made moves to comply with ethics panel requirements under the new law.

Burney Simpson
Illinois Issues July/August 1999 / 11
---