Introduction to Illinois History Teacher

---
Volume 7:2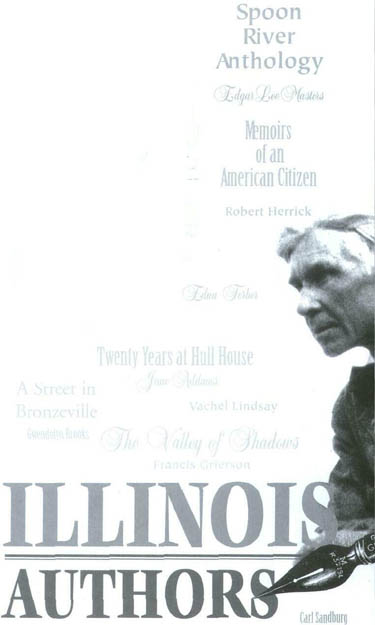 Illinois authors, from James Hall of frontier Vandalia to Saul Bellow of contemporary Chicago, have written an unusual number of fine works that reflect the culture of their home state while depicting typical American values, struggles, and conflicts. In other words, Illinois has numerous poems, stories, plays, and non- fictional writings that have historical interest. For example, Black Hawk's autobiography portrays Indian-white conflict on the frontier; Francis Grierson's The Valley of Shadows depicts tension and trouble over the slavery issue; Jane Addams's Twenty Years at Hull House chronicles the life of a great social leader who strove to help immigrants; Robert Herrick's novel, Memoirs of an American Citizen, reflects late-nineteenth-century social issues, including the controversial Haymarket affair; Edgar Lee Master's Spoon River Anthology portrays social change and community decline through realistic poems of smalltown life; and Gwendolyn Brooks' A Street in Bronzeville conveys the economic and spiritual struggle of blacks on Chicago's South Side.
For the history teacher in Illinois, these and many other literary works offer opportunities for approaching a wide variety of historical events, developments, and individuals through uncommonly engaging written materials. This issue of the ILLINOIS HISTORY TEACHER explores some of those opportunities. Robert Bray and Kathryn Pavlou focus on the development of the Chicago novel from 1890 to 1915, when Henry Blake Fuller, Upton Sinclair, and others were depicting the economic and social realities of city life. Dan Guillory and Elizabeth Miller deal with the famous Chicago Renaissance, when Vachel Lindsay, Edgar Lee Masters, Carl Sandburg, and others celebrated and criticized American culture—and brought literary leadership to the Midwest for the first time. Babette Inglehart, Janet Paarlberg, and William Paarlberg devote their attention to novelist and short-story writer Edna Ferber, who depicted the struggle of women in Chicago. James Hurt and Edna Capehart explore a selection of noted writers, including Richard Wright and Lorraine Hansberry, who have reflected the difficult experience of blacks during and after the Great Migration. James Ballowe and GeorgeAnn Kistia Siwicke focus on nonfictional accounts of crime and violence during the state's colorful Prohibition era— and, in the process, reveal that historical writing can be highly literary.
Reasonably priced paperback editions of many historically relevant Illinois literature works are available. The Prairie State Books series, published by the University of Illinois Press, includes a wide range of notable titles with helpful introductions. Teachers should consult Books in Print for the prices and publishers of useful editions. For earlier Illinois literature, my anthology, Illinois Literature: The Nineteenth Century, includes a wide variety of works—mostly nonfictional items—that are no longer under copyright and can be photocopied for classroom use. Helpful brief discussions of many important Illinois authors and works, as well as annotated bibliographies, can be found in A Reader's Guide to Illinois Literature, edited by Robert Bray.
I would like to thank Keith Sculle of the Illinois Historic Preservation Agency for offering me the opportunity to serve as the guest editor of this issue, which attests to the importance of a number of Illinois authors as it shows the usefulness of many literary texts for teaching aspects of the state's remarkable heritage.
John E. Hallwas
Professor of English
Western Illinois University
---