The BassMasters Classic
---
The world championship of bass fishing
will be contested off Chicago's shoreline.
BY GARY THOMAS
PHOTOS COURTESY OF B.A.S.S.
It's the Super Bowl of Fishing, and it's coming to Chicago. This year's BassMasters Classic, the most important event in competitive fishing and sponsored by the world's largest fishing organization, will be held in Lake Michigan, with daily weigh-ins taking place at Soldier Field and the Classic Outdoor Show at McCormick Place.
Set for July 19-23, the classic is essentially a week-long event, and there's something for everyone. Best of all, everything is free.
The classic, which traditionally has been fished in southern waters, is moving north of the Mason-Dixon line for only the second time in its 30-year history, and the 46 anglers who will be competing are excited about the prospect. Defending champion Davy Hite of South Carolina said: "Taking the Bass-Masters Classic to Chicago is a bold move that is really going to elevate the sport."
This also will be the first time the weigh-in has occurred outdoors since 1981, when the Bass Anglers Sportsman Society started the tradition of driving competitors into an arena. This is the first time ever the weigh-in will be in a football stadium.
Anglers in this year's classic won't have to worry about finding water to fish. They can fish anywhere that's legal with an Illinois license, including all of Illinois' portion of Lake Michigan, the Chicago
| | |
| --- | --- |
| | Midwest professional angler Kevin Van Dam will be a favorite at this year's BassMaster Classic, which will take place on Lake Michigan in mid-July |
July 2000 5
---

Burnham Harbor, with a view of Chicago's magnificent skyline,
will be the launch site for the 30th anniversary of the BassMaster Classic
and Calumet rivers and even the Illinois River for those anglers who want to take a chance of locking through the gates.
Lake Michigan has an excellent population of smallmouth bass, plus many of the Chicago-area harbors and rivers have nice concentrations of largemouth bass.
"This is probably going to be one of the most challenging classics we have ever put on," said Tournament Director Dewey Kendrick. "A lot of fishing strategy is going to depend on the wind. If the wind allows anglers to fish the rock piles out in Lake Michigan, they are going to slay the smallmouths."
Michigan pro Kevin VanDam, a three-time B.A.S.S. Angler of the Year competing in his 10th consecutive classic, couldn't hide his excitement regarding Chicago as the classic site. He pointed out that this would make it easy for lots of Midwestern fans to see their first classic.
"Chicago is a good city for a lot of people to travel to, so I expect big crowds," VanDam said. "Soldier Field is going to be an awesome place to have the weigh-ins. Last year, we were in the Louisiana Superdome, and I thought that was a great step up for the sport. And this will be another great event and great location. There's so much good food and good entertainment, and so many great things to do there in addition to the classic."
There will be plenty of classic-related activities for visitors during
Missourian Rick Clunn will be shooting tor his fifth BassMaster Classic championship while fishing in his record 26th consecutive event.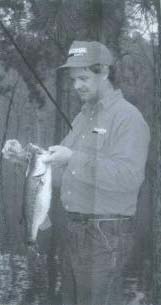 The Road to Riches
From 1971's first-ever $10,000 winner-take-all classic at Lake Mead to last year's $101,000 win for Davy Hite on the Mississippi River at New Orleans, the BassMasters Classic has become an angling tradition and the dream of every professional bass angler.
Going to the classic is the yearly goal of every professional bass angler. It's the tournament where you go to win, so you can add the biggest title in professional fishing to your name. No angler wants to finish in second place.
Making the classic field is the high-water mark in most angler's fishing career. Making it consistently is the sign of greatness. Winning it can make you rich.
"The classic has become so big that winning just one can set you up for life," according to professional angler and television star Roland Martin. "To the pro with the right promotional skills, a classic win can be worth more than $1 million over a period of time."
If you're a fan of weekend television fishing shows, you know that many of those celebrities got their start, and many still fish, the BassMasters circuit. Names like Martin, Bill Dance, Jimmy Houston, Hank Parker, Shaw Grigsby, Larry Nixon and Denny Brauer. Other anglers-like Rick Clunn, Kevin VanDam and Gary Klein-have become well known from endorsing fishing products on television.
You can't buy your way into the BassMasters Classic. It's strictly an invitational. The 46 slots for this year's event are determined this way: the top 25 qualifiers from the Top 150 Pro division point standings; top five qualifiers from the Western Invitational Tournament Trail point standings; top five qualifiers from the Central Invitational Tournament Trail point standings; the top five qualifiers from the Eastern Invitational Tournament Trail point standings; the five divisional qualifiers from the Wrangler national championship; plus last year's winner, Davy Hite.
6 OutdoorIllinois
---
BassMasters Classic Facts:

• Only four-time winner: Rick Clunn (1976, 1977, 1984, 1990). Two-time winners: Bobby Murray (1971, 1978), Hank Parker (1979, 1989), George Cochran (1987, 1996).
• Only amateur angler to win the event: Bryan Kerchal, 1994.
• Youngest angler to win the event: Stanley Mitchell at age 21 (1981).
• Only father and son to have won the event: Guido Hibdon (1988) and Dion Hibdon (1997).
• Most Consecutive BassMasters Classics Fished: 25 by Rick Clunn.
• Heaviest winning weight for classic: Rick Clunn, 21 bass weighing 75 pounds, 9 ounces, Arkansas River (1984).
• Lowest winning weight for classic: George Cochran, 14 bass weighing 15 pounds, 5 ounces, Ohio River (1987).
• Largest bass taken during classic: Ricky Green's 8-pound, 9-ounce bass, Lake Guntersville (1976).

the week while anglers are on the water chasing the $100,000 top prize and the all-important title that goes with it.

On Wednesday, July 19, Jackson Lake Park will be the site of the Kids Klassic® contest (10 a.m. to 2 p.m.) and a Meet the Pros autograph session (8 a.m. to 11 a.m.). McCormick Place will host the popular BassMasters Classic Outdoor Show, which is expected to attract more than 125,000 visitors.

This year's show is being held in conjunction with the American Sportfishing Association's annual ICAST trade show. Classic visitors not only have the opportunity to shop the largest collection of outdoor-related merchandise, but will enjoy the chance to see all of the new fishing, boating and outdoor recreation products that will go on the market in 2001. The show runs Thursday, July 20, through Sunday, July 23.

Competition days are Thursday through Saturday, with anglers launching from Burnham Harbor.

Soldier Field will host the three daily weigh-ins, and officials at B.A.S.S. are expecting record numbers. Crowds upwards of 25,000 have filled stadiums at previous classics, but that number could double at Soldier Field. Saturday's weigh-in will also include an award-winning laser-light show before the new classic champion is crowned on Saturday. As an extra bonus, country-western singer Trisha Yearwood will present a free concert prior to the final weigh-in on Saturday afternoon.

Soldier Field also will be the site for the annual BassMasters CastingKids national finals on Friday, sponsored by Chevy Trucks and Zebco.

Sponsors of the 2000 BassMasters Classic include: Ranger® Boats, RangerTrail® Trailers, Mercury® Outboard, Chevrolet Trucks, ACDeIco® Batteries, Worldwaters. corn, Humminbird® Electronics, Zercom® Marine, Pennzoil® Marine, Flowmaster® Exhaust Systems, First USA Visa Card, MotorGuide® Trolling Motors, Gore-Tex® Outerwear, GMAC Insurance, State of Illinois and the City of Chicago.

South Carolina angler Davy Hite was the winner of last year's BassMasters Classic held at New Orleans. Soldier Field will host the weigh-ins at this year's event.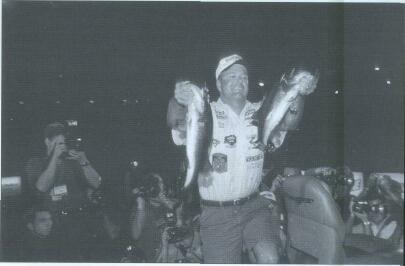 Competitors and how they qualified
Eastern: Woo Daves, Michael Iaconelli, George Cochran, Gerald Beck and Charlie Youngers.
Central: Scott Rook, Curt Lytle, Edwin Evers, Randy Jackson and Brent Chapman.
Western: Aaron Martens, Kotaro Kiriyama, Skeet Reese, Mark Rizk and Bret Hite.
Federation: Stan Fisher, Rickie Harp, Phillip Jones, Dean Matts and Russell Smarr.
Top 150: Timmy Horton, Kevin VanDam, Kevin Wirth, Art Ferguson III, Carl Maxfield, Larry Nixon, Shaw Grigsby Jr., David Walker, Todd Faircloth, Norio Tanabe, Ron Shuffield, Alton Jones, Rick Clunn, Robert Kilby, Mark Hardin, Kim Stricker, Bernie Schultz, Jay Yelas, Mike Wurm, Dion Hibdon, Tom Mann Jr., Mark Pack, Gary Klein, Lendell Martin Jr. and Ray Sedgwick.
1999 BassMasters Classic winner: Davy Hite.
July 2000 7
---