OutdoorIllinois

VOLUME IX, NUMBER 9

OUTDOOR ILLINOIS is published monthly by the Department of Natural Resources, Office of Public Services, 524 S. Second St., Springfield, IL 62701-1787, phone (217) 782-7454, e-mail editor@dnrmail.state.il.us.

(Publication number: ISSN 1072-7175)
Periodical Postage Paid at Springfield, IL POSTMASTER: Send address changes to OUTDOOR ILLINOIS, Department of Natural Resources, Dept. NL, 524 S. Second St., Springfield, IL 62701-1787.

George H. Ryan Governor
Brent Manning Director
James D. Garner Deputy Director
Jim Riemer, Jr. Deputy Director

STAFF: James L. Fulgenzi, office director; Gary Thomas, editor; Liz Pensoneau, managing editor; John Alien, staff writer; P.J. Perea, staff writer; Adele Hodde, chief photographer; Chas. J. Dees, staff photographer; Charles J. Copley, design & layout; Cheryl Gwinn, production coordinator; Vera Lynn Smith, circulation.

Illinois Department of Natural Resources

Internet Address:

http://dnr.state.il.us

Staff-written material appearing in this publication may be reprinted without permission, provided that OUTDOOR ILLINOIS, Illinois Department of Natural Resources, is acknowledged as the source. OUTDOOR ILLINOIS assumes no responsibility for the return of unsolicited manuscripts or illustrations.

Equal opportunity to participate in programs of the Illinois Department of Natural Resources (IDNR) and those funded by the U.S. Fish and Wildlife Service and other agencies is available to all individuals regardless of race, sex, national origin, disability, age, religion or other non-merit factors. If you believe you have been discriminated against, contact the funding source's civil rights office and/or the Equal Employment Opportunity Officer, DNR, 524 S. Second, Springfield, IL 62701-1787; 217/785-0067; TTY 217/782-9175.

All public meetings conducted by the Department of Natural Resources will be accessible to handicapped individuals in compliance with Executive Order No. 5 and pertinent state and federal laws, upon notification of the anticipated attendance. Handicapped persons planning to attend and needing special accommodations should inform the Department of Natural Resources at least five days prior to the meeting by telephoning or writing the Equal Employment Opportunity Officer, Department of Natural Resources, 524 S. Second St., Springfield, IL 62701-1787, phone (217) 785-0067.

Department of Natural Resources information is available to the hearing impaired by calling DNR's Telecommunications Device for the Deaf (217) 782-9175.

Printed by the Authority of the State of Illinois PRT3216173-28,395-7/01 Illinois Department of Natural Resources Printed on recycled and recyclable paper with soy-based ink.

Illinois Department of
Natural Resources



4
Go Fish
Anglers travel thousands of miles for the opportunity to fish in the Chicago River Carp Classic.



8
Winging It
It's one feather at a time for one of Illinois'
favorite wildlife artists.



12
Old Yellow
Caution! Big changes
are just ahead.



14
Out and About
Day trips have gained popularity in today's fast-paced society, and DNR's Mt. Zion-area facilities have much to offer.



18
Doctor's Orders
The Shaw brothers try to spend as much time on the water as possible—for medicinal reasons.



20
NewsFront
This month's NewsFront will tell you how DNR is strengthening its disabled sportsman program, where to go to enjoy this year's hunting and fishing day celebrations, an update of Illinois' ecosystem, a trophy archery hunt for women, a muskie tournament, how to apply for museum grants, news for goose hunters, a name change for a prairie park; an update on Federal legislation and how OutdoorIllinois' calendar was judged best in the country.

On the cover...
DNR photographer Adele Hodde took our cover photograph of an orange mycena mushroom growing in the nature preserve at Spitler Woods, Mt. Zion.
September 2001
---
If the Native Americans and early settlers could see Illinois now, they'd hardly recognize it. Prairies have been replaced by corn fields, forests are housing developments and golf courses, rivers are lined with industries, and the swamps of the northeast have sprouted skyscrapers.
In fact, the Natural Areas Inventory of Illinois found that only seven-hundredths of one percent of the entire state resembles what the first Europeans saw less than 200 years earlier. The inventory lists 1,199 sites in pre-settlement condition worth preserving for their biological significance and the education of future generations.
Since the early 1960s, the Illinois Nature Preserves Commission has been working to protect these precious remnants of our past. The nine-member Commission was the nation's first, and its success has since caused 13 other states to emulate it.
The Commission marks a major milestone this month with the dedication of a 43-acre parcel at White Pines Forest State Park in Ogle County as Illinois' 300th nature preserve.
Nature preserve designation affords the highest form of legal protection to Illinois' largest remaining stand of white pine trees. State law restricts land use on nature preserves to activities such as hiking and birdwatching. Commercial activities, such as farming and logging, and recreational activities, such as hunting and fishing, are not allowed.
A separate program administered by the Commission allows hunting and fishing on preserves if they don't significantly impact an area's natural features. Land and Water Reserves use less restrictive conservation easements to protect high-quality natural areas.
Since the first nature preserve was dedicated in 1964 at Illinois Beach State Park, 39,000 acres located in 78 counties have been protected. They are both publicly and privately owned, and range in size from the 1/2 acre Fairchild Cemetery Prairie in Vermilion County to the 1,900-acre Heron Pond/Little Black Slough in Johnson County.
The Commission is a separate entity that works with DNR to assist landowners in voluntarily protecting lands on the Natural Areas Inventory. Preservation specialists contact owners of those areas, explain the significance of their site, and if the landowner wants to proceed, draw up a proposal to protect it. Proposals contain the history and location of the property, biologically significant species present and a proposed management plan.
If the Commission determines the property is eligible, it goes to the Governor and me for our signatures.
Nature preserves are dedicated in perpetuity. The landowner retains title to the land, has his property tax reduced to $1 an acre and receives continued land management assistance from DNR. Land and water reserves can be registered for 10 or more years, rather than forever. However, if they are not registered in perpetuity, reserves are not eligible for the 75-percent reduction in taxes offered to permanent registrants.
Getting landowners to agree to forever protect their property for the benefit of future generations is no easy task. That 300 areas have gained such protection is nothing short of remarkable.
The Commission and its employees deserve a huge round of applause as they dedicate Illinois' 300th nature preserve. I think those Native Americans and early settlers of long ago would also appreciate their efforts.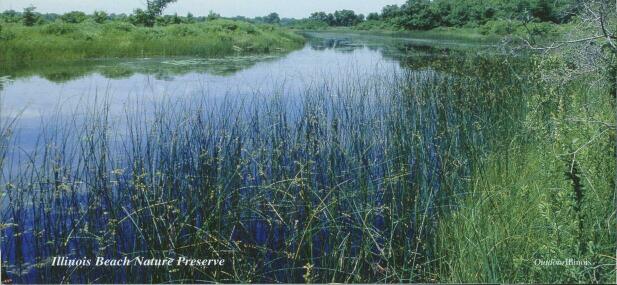 ---