Cardiff memorial
reclaims lost community's past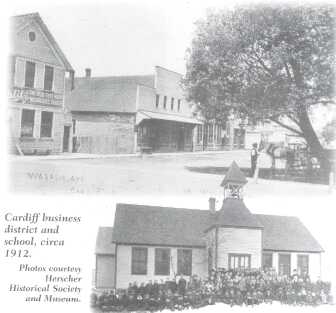 The dedication of a historical marker and memorial at Cardiff, Illinois, on Sunday, August, 26, 2007, was like a family reunion. Approximately 300 people came to the ceremony and most stayed for hours, greeting family and friends they had not seen in years, catching up on old times.
Honored guests were two 95-year-olds born in Cardiff and who spent their early years there, when it was still a town. Lawrence Santini of Joliet was born in Cardiff in 1911, four
ILLINOIS HERITAGE| 17
---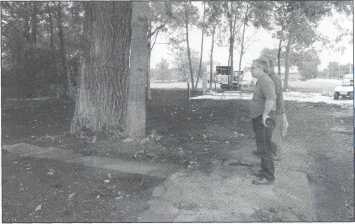 Herscher Historical Society director Jim Ridings stands on a Cardiff sidewalk, one of the last physical remnants of the lost community. Story and photos courtesy Herscher Historical Society and Museum.
after his father was killed in a coal-mining accident in downstate Rend City. His father had gone to find work as the Cardiff mine was closing. He died before he could send for his family, and they remained in Cardiff for several years. Mary McCabe was born in Cardiff in 1912, to Joseph and Goldie Roquet, one of Cardiff's most prominent families. She came from Cincinnati, Ohio, for the dedication.
Many individuals contributed to the marker dedication. One such example is Paul Juricic Jr. of Wilmington, whose grandfather owned a saloon in Cardiff from 1900 to 1922. Mr. Juricic had two small pieces of original Cardiff sidewalk mounted in cases of fine wood with a glass top, one for Mr. Santini and one for Mrs. McCabe. The black felt inside represented the coal era. Each case had the name of the recipient engraved on a brass tag.
John Weck, president of the Illinois State Historical Society, attended the dedication, as did State Rep. Careen Gordon of Coal City, and other local officials.
The village's origins began in 1899 when engineers discovered coal deposits and dug the first Cardiff mine. Within a very short time, Cardiff was a bustling town of about 2,000 people, a busy downtown, and hundreds of homes. When the mine closed in 1912, the town disappeared within a few years. Acres and acres that once were houses and streets are now cornfields.
Nine men were killed in mine explosions in March 1903. A total of 18 men died in mine accidents at Cardiff.
Cardiff gained a reputation over the years as a "ghost town." Sidewalks still line parts of Cardiff, including sidewalks that had been between buildings that now lead into the woods. Since 1920, Cardiff's population has remained around two-dozen people, most living in a few new houses and trailers. People driving through today would think Cardiff is just another small cluster of homes in a remote rural area.
But now that there is a state historical marker, there will be no mistaking Cardiff. It is back on the map, mostly due to the efforts of Jim Ridings of nearby Herscher.
The town's "ghost town" reputation and colorful history attracted Riding's attention. He spent more than two years researching and writing a book on Cardiff, starting from scratch, tracking down village descendants all over the nation. His book won a Studs Terkel Award from the Illinois Humanities Council in 2006 and an award from the Illinois State Historical Society in 2007. The new Cardiff memorial includes the state marker, two black granite tablets with the names of the men who died in Cardiff's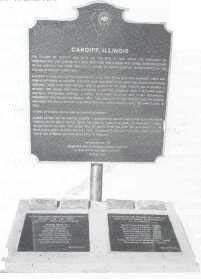 mines, a patio of engraved granite blocks with names of donors and loved ones, a flagpole, and two benches. Two large mine dumps (slag heaps) are visible in the background.
Rodney Hogan and his son Dan, who own the large Hogan Farms that surround Cardiff (and include farmland once occupied by Cardiff homes and businesses), donated a considerable time and equipment to clear most of a former city block for the memorial site. They also donated the flagpole and provided hayrack rides to the mine sites on the dedication day.
Signs were placed along the two main roads, where former Cardiff stores had been: Bank of Cardiff, Schlitz Hall, Roquet Saloon, Cohen's Bargain Store, Lazerowitz's store, Livingston Supply Co., Wabash Depot, Hotel Cardiff, Meyers Bakery, and more.
The memorial site was donated by Gary Romanetto, whose family has been in Cardiff since the late 1920s. Chuck Fieldman, a Herscher contractor who grew up on a farm at the north end of Cardiff, installed the memorial. Grieff's Monuments in Dwight carved the blocks and donated the black marble tablets. Other dedicated people donated time and services in making this project happen. A reception followed at the Herscher Museum.
18 |ILLINOIS HERITAGE
---
Illinois Periodicals Online (IPO) is a digital imaging project at the Northern Illinois University Libraries funded by the Illinois State Library