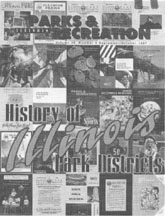 Things get a little wild on the cover of this history issue. Taking a
cue from LIFE magazine's 60th anniversary cover (minus the
Marilyn Monroe photomosaic), featured are 25 past issues of our
statewide magazine, from 1941 to 1997. It's been called "Illinois
Park Board Bulletin," " Illinois Parks," and now " Illinois Parks &Recreation." During the war years, poetry "for the boys"
made the ncover and life in the "Atomic Age" was pondered.
Nature and recreation remain mainstays. Special thanks to the
graphics team at For Color in Springfield for their work on this cover.
Departments
Across the Board 6
It all started with citizens
Partnerships 9
Free rides are just the ticket in Peoria
Statehouse Insider 12
Veto session is the battleground for tort reform
Trend Watch 51
Snags and Yeepies are coming to town
Mixed Media 52
What to say and when to say it
Our Natural Resources 54
Volunteer interpreters, Tree Cities USA, and DNR Newsbriefs