PARKS &
ILLINOIS RECREATION
Volume 33, Number 6 • November/December 2002
Features
2003 Election Calendar 17
Important dates for commissioner elections and referendums
— compiled by Peter M. Murphy, Esq.
2002 Give Us Your Best Shot Photo Contest

32
Winning photographs from IP&R's annual contest
Special Focus
Land at Risk 24
A "greenprint" survey of Illinois open space reveals more than 83,000 acres are needed in the next five years
— by Mike McCurdy and Lynn McClure
Up and Away

28
How to host a kite festival, step-by-step
— by Michele Courtney
Lessons Learned

34
A feasibility study shows what swims in indoor aquatic facility design
— by Daniel R. Atilano, AIA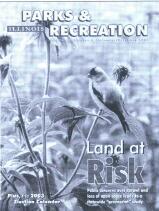 A goldfinch rests on a purple coneflower in the Winnebago County Forest Preserve District's prairie restoration area of its 43-acre Headquarters Forest Preserve. The coneflower is one of many native plant species brought back to the area by seeding and controlled burns over the past 10 years. Authors of the Prairie Directory of North America, Charlotte Adelman and Bernard Schwartz, say more than 99 percent of Illinois' original prairies have been destroyed. According to a recently released "greenprint" survey, Illinois' open space needs are staggering. See related story "Land at Risk" on page 24. Photograph by Jamie B. Johannsen, Winnebago County Forest Preserve District.
Departments
Are You on Board? 6
Board members: never—ever—fire staff members
Eye on the Profession 8
A culture of honesty is fostered by agency leadership
Partnerships 11
Housing and recreational opportunities create a thriving community in Lawndale
Statehouse Insider 14
New General Assembly sworn in on January 8
Mixed Media 39
Zany makes good sense when it comes to special events
Our Natural Resources 41
Animal tracks, plus IDNR newsbriefs
People and Places 47
Scenes from Park District Conservation Day