OutdoorIllinois

VOLUME X, NUMBER 3

OUTDOOR ILLINOIS is published monthly by the Department of Natural Resources, Office of Public Services, 524 S. Second St., Springfield, IL 62701-1787, phone (217) 782-7454, e-mail editor@dnrmail.state.il.us.

(Publication number: ISSN 1072-7175)
Periodical Postage Paid at Springfield, IL POSTMASTER: Send address changes to OUTDOOR ILLINOIS, Department of Natural Resources, Dept. NL, 524 S. Second St., Springfield, IL 62701-1787.

George H. Ryan Governor
Brent Manning Director
Andrea Moore Assistant Director
James D. Garner Deputy Director
Jim Riemer, Jr. Deputy Director

STAFF: James L. Fulgenzi, office director, Liz Pensoneau, editor; Kathy Andrews,Joe McFarland and staff writer; P.J. Perea, staff writers, Adele Hodde, chief photographer; Chas. J. Dees, staff photographer; Charles J. Copley, design & layout; Cheryl Gwinn, production coordinator; Vera Lynn Smith, circulation.

Staff-written material appearing in this publication may be reprinted without permission, provided that OUTDOOR ILLINOIS, Illinois Department of Natural Resources, is acknowledged as the source. OUTDOOR ILLINOIS assumes no responsibility for the return of unsolicited manuscripts or illustrations.

Equal opportunity to participate in programs of the Illinois Department of Natural Resources (IDNR) and those funded by the U.S. Fish and Wildlife Service and other agencies is available to all individuals regardless of race, sex, national origin, disability, age, religion or other non-merit factors. If you believe you have been discriminated against, contact the funding source's civil rights office and/or the Equal Employment Opportunity Officer, DNR, 524 S. Second, Springfield, IL 62701-1787; 217/785-0067; TTY 217/782-9175.

All public meetings conducted by the Department of Natural Resources will be accessible to handicapped individuals in compliance with Executive Order No. 5 and pertinent state and federal laws, upon notification of the anticipated attendance. Handicapped persons planning to attend and needing special accommodations should inform the Department of Natural Resources at least five days prior to the meeting by telephoning or writing the Equal Employment Opportunity Officer, Department of Natural Resources, 524 S. Second St., Springfield, IL 62701-1787, phone (217) 785-0067.

Department of Natural Resources information is available to the hearing impaired by calling DNR's Telecommunications Device for the Deaf (217) 782-9175.

Printed by the Authority of the State of Illinois PRT3216173-28,395-7/01 Illinois Department of Natural Resources Printed on recycled and recyclable paper with soy-based ink.

Illinois Department of
Natural Resources




2
Pottery Town
Tiny Ripley in western Illinois attracted a college professor who made a full-time practice of what he preached to his students.




5
The Bigger the Better
For centuries, man has been fascinated with antlers and will go to great lengths to obtain and display them as prize trophies.




10
Wonderful Wolf
Community involvement is changing the look and feel of Wolf Lake in Chicago.




14
Talking Turkey
TNN's Wade Bourne talks about the basic accessories you'll need to take on the elusive Illinois gobbler.




16
Down On Their Muck
Find out what is being done to save the federally endangered Higgins' eye pearlymussel from extinction.




20
NewsFront
We'll tell you about DNR's new assistant director, an environmental stewardship award, an opportunity to obtain boat grants and a project involving the Mahomet Aquifer; explain how a new endowment will fund Lookout Point at Mississippi Palisades State Park and how you can help the Wildlife Preservation Fund; and update you on trout season, a DeKalb County land acquisition.

On the cover...
Adele Hodde photographed a collection of Illinois mussels which are identified on page 16.
March 2002
---
"Let Your Fingers do the Walking" and "Phone First" may only be advertising slogans, but if you're planning to visit a state park, they make a lot of sense.
Towing a boat from Chicago to Starved Rock State Park, only to find that the launches are closed due to flooding on the Illinois River, or hauling camping equipment from Springfield to Pere Marquette State Park without a reservation on Memorial Day weekend will leave you frustrated at best and irate at worst.
While most state sites are open year-round, there are a variety of reasons an area may be closed or certain activities may be curtailed. Each season brings its own circumstances.
Foremost among these is the weather.
Heavy rains and snow melt in the spring often will cause closures of campgrounds and day-use areas due to flooding, especially at sites located along the Illinois and Mississippi rivers. Heavy rains also may force us to close equestrian or bicycle trails at some sites, while hiking trails remain open. Likewise, springtime's freeze-thaw cycles can cause road closures within some sites, which limit access.
Access can also be limited in the winter because we don't plow all the roads or trails.
In the summer, construction activities such as new boat launch ramps or campground rehabilitation can result in site closures. Also during summer, prolonged heat and dry conditions may cause bans on open fires, thereby dampening the fun of campers.
During the fall, some sites close equestrian trails or other recreational areas to accommodate hunting activities.
Sites also can close for security reasons, such as the September 11 terrorist attacks, or as a result of labor disputes involving areas we lease from private industry.
And occasionally, we find it necessary to close a site when it reaches full capacity. This is especially true of campgrounds on Memorial Day, Fourth of July and Labor Day weekends.
Although we don't accept reservations at all our sites, the most popular ones do. Also, the majority of our parks accept reservations for large groups wanting to use picnic shelters. It's not a good idea to show up at a park with 50 people for a family reunion if you haven't called ahead to reserve a shelter.
The decision to close a site or to curtail certain activities is made by the site superintendent, who is in the best position to judge whether such closures are merited. He or she, in turn, notifies the regional office, which then notifies Springfield.
If we have advance notice that a site will be closed, such as during construction activities, that information will be placed on the Department's website (http://dnr.state.il.us) and sent to the media via a press release. We try to do the same thing for emergency closures, but sometimes it's just not possible to get the word out quickly enough.
For that reason, the telephone remains the best way to get the latest information. Phone numbers for each of our sites are contained in a free publication called Illinois State Parks Magazine. Copies are available by calling (217) 782-7498 or (312) 814-2070, writing DNR Clearinghouse, 524 South Second Street, Springfield, IL 62701, or emailing clearing@dnrmail.state.il.us.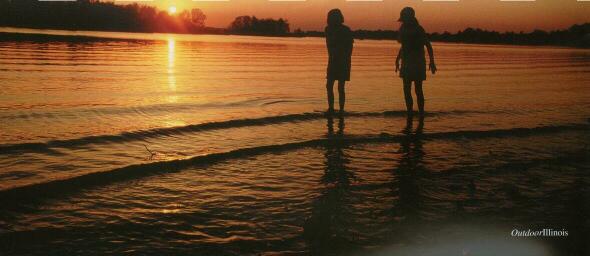 OutdoorIllinois
---