OutdoorIllinois

VOLUME X, NUMBER 6

OUTDOOR ILLINOIS is published monthly by the Department of Natural Resources, Office of Public Services, 524 S. Second St., Springfield, IL 62701-1787, phone (217) 782-7454, e-mail editor@dnrmail.state.il.us.

(Publication number: ISSN 1072-7175)
Periodical Postage Paid at Springfield, IL POSTMASTER: Send address changes to OUTDOOR ILLINOIS, Department of Natural Resources, Dept. NL, 524 S. Second St., Springfield, IL 62701-1787.

George H. Ryan Governor
Brent Manning Director
Andrea Moore Assistant Director
James D. Garner Deputy Director
Jim Riemer, Jr. Deputy Director

STAFF: James L. Fulgenzi, office director, Liz Pensoneau, editor; Kathy Andrews,Joe McFarland and staff writer; P.J. Perea, staff writers, Adele Hodde, chief photographer; Chas. J. Dees, staff photographer; Charles J. Copley, design & layout; Cheryl Gwinn, production coordinator; Vera Lynn Smith, circulation.

Staff-written material appearing in this publication may be reprinted without permission, provided that OUTDOOR ILLINOIS, Illinois Department of Natural Resources, is acknowledged as the source. OUTDOOR ILLINOIS assumes no responsibility for the return of unsolicited manuscripts or illustrations.

Equal opportunity to participate in programs of the Illinois Department of Natural Resources (IDNR) and those funded by the U.S. Fish and Wildlife Service and other agencies is available to all individuals regardless of race, sex, national origin, disability, age, religion or other non-merit factors. If you believe you have been discriminated against, contact the funding source's civil rights office and/or the Equal Employment Opportunity Officer, DNR, 524 S. Second, Springfield, IL 62701-1787; 217/785-0067; TTY 217/782-9175.

All public meetings conducted by the Department of Natural Resources will be accessible to handicapped individuals in compliance with Executive Order No. 5 and pertinent state and federal laws, upon notification of the anticipated attendance. Handicapped persons planning to attend and needing special accommodations should inform the Department of Natural Resources at least five days prior to the meeting by telephoning or writing the Equal Employment Opportunity Officer, Department of Natural Resources, 524 S. Second St., Springfield, IL 62701-1787, phone (217) 785-0067.

Department of Natural Resources information is available to the hearing impaired by calling DNR's Telecommunications Device for the Deaf (217) 782-9175.

Printed by the Authority of the State of Illinois PRT3216173-28,395-7/01 Illinois Department of Natural Resources Printed on recycled and recyclable paper with soy-based ink.

Illinois Department of
Natural Resources




2
Pedal Power
The right bicycle and the proper equipment can make a trip across Illinois an enjoyable adventure.




5
Count Me In
Did you know that volunteers join forces each year to determine butterfly populations?




8
Rock and Roll Bog
A teen might say "Volo Bog rocks," but a visit there will reveal that it "rolls" too!




12
Hooked on Helping
They learn by dreaming, by playing, by doing, by reading. They're "Fishin' Buddies!"




16
Now You See It
Part of what's interesting about Ken Caringer's art is what you don't readily see.




19
Ducking Responsibility
Domestic ducks may seem like good idea for a pet. But when they are abandoned in the wild, the good idea can go awry.




20
NewsFront
Learn about Illinois' efforts to prevent chronic wasting disease from entering the state, OutdoorIllinois' international award, the results of the Governor's Cup Shooting Challenge, new deer hunting rules, why antler traps are illegal, nominations for the Illinois Outdoor Hall of Fame, a family fishing fair and more.

On the cover...
Adele Hodde photographed this striking question mark (Polygonia interrogationis) butterfly at Silver Springs State Park.
June 2002
---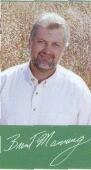 It is no secret that June 1 is National Trails DayŚ a day that has taken on a new significance in Illinois for several reasons, one being the fact that trails offer a perfect solution to a concern that is shared by every citizen: good health.
Hiking our trails is a wonderful way to improve health and lose excess weight. The American Heart Association suggests that it is best to walk vigorously for 30 to 60 minutes three or four times a week, but the good news is that even slow or moderate walking can have both short- and longterm health benefits. Hiking also can decrease cholesterol levels and help improve other medical conditions. These facts alone are reason enough to encourage everyone to head out to explore Illinois' network of trails.
The second reason is enjoyment. Illinois has wonderful trails that are suited for a variety of outdoor activities, such as hiking, hiking, jogging, horseback riding and observing wildlife. In addition to fresh air, most trails provide the added benefit of beautiful scenery. Picture yourself hiking through a shady wooded area, brimming with greenery and native plants, on a sunny June day. The birds are chirping, and squirrels are scurrying about tending to their daily business. You might even want to take along your camera to capture some great images to enjoy later.
The third reason is new opportunities such as the Grand Illinois Trail. Although construction still is underway on many segments, it is possible to make a 475-mile loop around the state's longest, continuous trail, which runs from Lake Michigan to the Mississippi River. You can access our partner's websites, such as www.bikelib.org or www.openlands.org for download information to plan your journey.
You'll see historic canals, cross scenic hills and experience one of America's first rail-trails.
The fourth reason is volunteerism. National Trails Day serves as a tribute to the many organizations and groups who have partnered with the State of Illinois to make trails a reality. Without the help and support of volunteers, who serve so many meaningful purposes pertaining to trail-related planning, construction, maintenance and day-to-day operations, it would be difficult, if not impossible, to have our present day, superior quality network of trails.
As with all outdoor activities, there are some safety tips to keep in mind when using a trail. Always stay on designated trails, dress appropriately for the weather, dress in layers you can shed for comfort, wear sturdy hiking boots if you are hiking on a natural-surface trail and be sure to tell a friend or family member where you are going and when you expect to return. With this advice in mind, you're ready to enjoy what our trail system has to offer!
Giant City Trail--Giant City State Park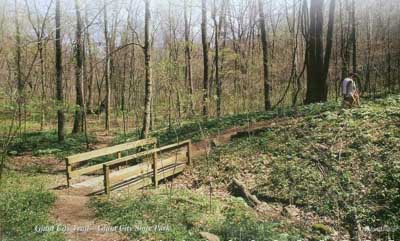 ---