Published by
Association of Illinois
Electric Cooperatives
www.aiec.org
John Lowrey
Editor
Jack D. Halstead
Senior Editor
Nancy R. Nixon
Catrina McCulley Young
Michelle Reed
Associate Editors
Sandy Wolske
Advertising Coordinator
Erin Weller, Kara Henning & Jodi Parish
Graphic Designers
Derek Squires
Graphic Technician/Designer
Angie Bingenheimer
Circulation Coordinator
Illinois Country Living is a monthly publication serving the communications needs of 21 locally owned, not-for-profit Illinois electric cooperatives. More than 160,000 families receive the magazine as part of their electric cooperative membership. Monthly columns and stories provide information about topics and issues that affect the quality of their lives.
Illinois Country Living (ISSN number 1086-8062) is published monthly and is the official publication of the Association of Illinois Electric Cooperatives, 6460 South Sixth Frontage Road, Springfield, IL 62707. The cost is $2.40 plus postage per year for members of subscribing cooperatives and $5 per year for all others. Periodical postage paid at Springfield, Illinois, and additional mailing offices.
POSTMASTER: Send address changes to: Illinois Country Living, P.O. Box 3787, Springfield, Illinois 62708.
COOP MEMBERS: When requesting an address change, please include the name of your cooperative. Telephone: (217) 529-5561
Advertising and editorial inquiries should be directed to Illinois Country Living, P.O. Box 3787. Springfield, Illinois 62708. National advertising representative; The Weiss Group, 14826 North 54th Place. Suite 101, Scottsdale, AZ 85254 (602) 482-8844. Acceptance of advertising by ICL does not imply endorsement by the publisher or the electric co-operatives of Illinois of the product or service advertised. Advertisers are screened by the publisher and every effort is made to protect the subscriber, but ICL is not responsible for the performance of the product or service advertised.
EDITORS: Articles appearing in Illinois Country Living may be reprinted upon consent of the editor. For permission phone (217) 529-5561 or write to John Lowrey, editor, Illinois Country Living, P.O. Box 3787, Springfield, IL 62708.

COVER STORY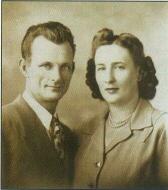 10 Still in love...after all these years
This Valentine's Day, what better way to celebrate than to pay a special tribute to couples celebrating more than 50 years together.
DEPARTMENTS
Judge Abner J. Mikva, who served as White House counsel, Chief Judge on the United States Court of Appeals for the District of Columbia Circuit, five terms in the Illinois House of Representatives, and five terms in the U.S. Congress co-chairs a task force on Political Representatives in Illinois. Mikva gives his reasons for going back to cumulative voting and three-member districts.
See Washington D.C. on the Youth to Washington tour and find out about financing help for rural housing.
Find out about safe drinking water on the Internet.
Spice up your life with herbs.
Clear the air efficiently with small room air cleaners.
This February, stay out of the bitter cold and enjoy a warm dinner at home. Try Crock Pot Pork Chops from the recipe collection of St. Paul's Lutheran Church in Chapin. And for dessert, try Blueberry Cobbler from the recipe collection of the Jacksonville Developmental Center in Jacksonville.