Published by
Association of Illinois
Electric Cooperatives
John Lowrey
Editor
Jack D. Halstead
Senior Editor
Nancy R. Nixon
Catrina McCulley Young
Michelle Reed
Associate Editors
Sandy Wolske
Avertising Editor
Erin Weller, Kara Henning,
Graphic Designer
Derek Squires
Graphic Technician/Designer
Angie Bingenheimer
Circulation Coordinator
Illinois Country Living is a monthly publication serving the communications needs of 21 locally owned, not-for-protit Illinois electric cooperatives. More than 160,000 families receive the magazine as part of their electric cooperative membership. Monthly columns and stories provide information about topics and issues that affect the quality of their lives.
Illinois Country Living (ISSN number 1086-8062) is published monthly and is the official publicarion of the Association of Illinois Electric Cooperatives, 6460 South Sixth Frontage Road, Springfield, IL62707. The cost is $2.40 plus postage per year for members of subscribing cooperatives and $5 per year for all others. Periodical postage paid at Springfield, Illinois, and additional mailing offices.
POSTMASTER; Send address changes to: Illinois Country Living, P.O. Box 3787, Springfield, Illinois 62708.
COOP MEMBERS: When requesting an address change, please include the name of your cooperative. Telephone: (21 7) 529-5561
Advertising and editorial inquiries should be directed to Illinois Country Living, P.O. Box 3787, Springfield, Illinois 62708. National advertising representative: The Weiss Group, 14826 North 54th Place, Suite 101, Scottsdale, AZ 85254 (602) 482-8844. Acceptance of advertising by ICL does not imply endorsement by the publisher or the electric cooperatives of Illinois of the product or service advertised. Advertisers are screened by the publisher and every effort is made to protect the subscriber, but ICL is not responsible for the performance of the product or service advertised.
EDITORS: Articles appearing in Iliinois Country Living may be reprinted upon consent of the editor. For permission phone (21 7) 529-5561 or write to John Lowrey, editor, Illinois Country Living, P.O. Box 3787, Springfield, IL 62708.

COVER STORY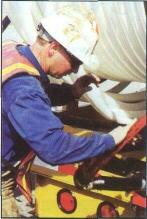 10 Conquering the digital divide: The Internet is improving the quality of life in rural Illinois.
On the cover, an employee of Von Behren Electric, Springfield, guides tubing off a reel, getting it ready to be pulled through a borehole. Miles of such tubes, packed with fiber-optic cable, will revolutionize communications in the near future. Wireless Internet service and DSL service will provide other options.
DEPARTMENTS
Mark Gebhards, Executive Director for the Illinois Pork Producers Association, says we can't afford to take agriculture for granted. He outlines some of the raw challenges facing agriculture producers.
Find out how you can change your community for the better.
Dan Dawson, prevention educator at the Springfield Extension Center, University of Illinois, gives some ideas on how to stop bullying before it gets out of hand.
Three more plant ideas for year-round enjoyment.
Read about landscape and security lighting and find out which is best for you.
May is a good month for picnics and potlucks. Casseroles are the best dishes to bring to your spring functions. Try Chicken-Broccoli Casserole or any one of the great casseroles from the recipe collection of Zion United Church of Christ in Metropolis. And while you're already a hit with your friends or co-workers, why not delight them with a delicious dessert, like Turtle Cake from the recipe collection of the Davis Memorial Christian Church of Taylorville.